May Release: Cameron Diaz
Cameron Diaz Talks About Hollywood Train Wrecks, Conflicts with Paparazzi and Getting to Know Herself
---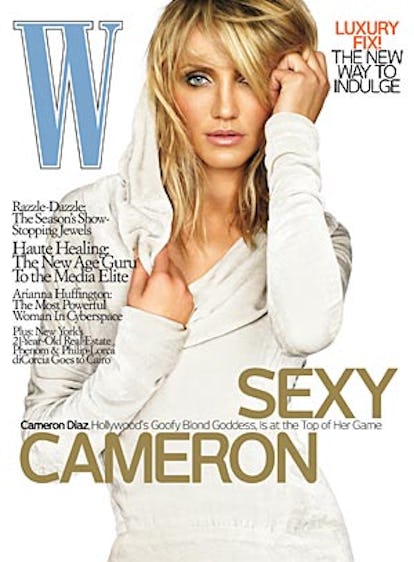 (April 14, 2008, New York, NY) Cameron Diaz tells W magazine that she never dreamed of becoming a famous movie star: "Oh, no. I wanted to be a zoologist, to study the sociology of animals. But that's pretty much what I do now anyway. I thought I'd be on the plains of Africa watching lions, but instead I'm in Hollywood watching train wrecks. I'm just kidding."
Following are other comments from Cameron Diaz's interview found in the May issue of W:
ON BUYING A PLACE IN MANHATTAN…"I'm done with L.A. Those guys [the paparazzi], you can't get away from them. You have no options because everybody's in a car. Here, I can walk down the street like everybody else. Not everybody is there to be rich and famous or attach themselves to rich and famous people. People want nothing from you. They just want to say, like, 'Hey, how's it going, Cameron?' I like that interaction. I like to be in a place where I can be open to people and not worry about the consequences."
ON HER ROMANTIC LIFE…"I'm in love with love. I'm in love with life. This year I just sort of decided, you know, there's a lot of things that I've been wanting to do, and I'm going to do them."
ON HER FUTURE GOAL …"Just kind of taking more time getting to know myself. It sounds so corny that I can't believe I even just said that, but, you know, there comes a time when you really have to get to know who you are. I've just been figuring out what interests me and spending time with people who are important to me and being present in my own life."
ON FINDING TRUE BLISS…"I think sometimes people are afraid to say that they're happy – they feel guilty about it. My life isn't perfect. I have my struggles; everybody does. But I want to appreciate all of the amazing things in my life. People should have the right to be happy."
ON NEW YORK CITY, WHERE SHE SPENT THREE MONTHS FILMING HER LATEST MOVIE…"You can walk down the street and end up in a gallery or some wonderful ethnic-food restaurant, or you can stop in a shop that sells, I don't know, staplers from all over the world! You don't get that in L.A. – that kind of, I don't know, specialty."
Please credit the May issue of W for the above. For additional information or to schedule an interview with a W editor, please contact Engelman & Co. at 212.645.9222. Thank you.