Maya Dardel Trailer Premiere: Lena Olin Plays a Nihilistic Cougar Hunting All Those Sad Young Literary Men
It's the Swedish screen legend's best work in years.
---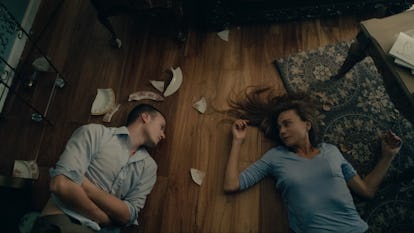 via Samuel Goldwyn Films
The concept of Maya Dardel at first seems pretty straightforward if not a little bleak: Lena Olin stars as the title character, a once-great poet who realizes that age is getting the best of her health, and more devastatingly, her creativity. So, during an interview with NPR she announces she intends to end her life, but not without a twist. With no family to leave her estate, she announces that she's seeking a young male writer to take over as her heir and executor. That includes not only her home and wealth, but the rights to all of her works. "Death's lucrative," she deadpans, a sly nod to the trope that great artists are always more appreciated once they've passed.
Dardel begins interviewing a series of young men, and things soon turn carnal. "What do you think of me?" she asks one candidate. "I love your work," he replies. "What do you think of me physically?" she replies. Twists, turns, sex, and pleas to call the whole thing off ensue.
The film made its way through the festival circuit, where it won raves for Swedish screen legend Olin's performance. Nominated for numerous awards including the Oscar, Emmy and Golden Globe for her work in projects like Chocolat, Alias, Enemies: A Love Story and The Unbearable Lightness of Being, the film serves as the best showcase for Olin's talents in years.
Indiewire called her performance "spell-binding" and notes "at turns daringly open and frustratingly restrained, [Olin] makes Maya entirely her own, the focal point and reason for the film itself." While RogerEbert.com says Olin is "still a cinematic force" and that "one can see the greatness that still burns within Olin's acting ability."
The project's literary premise should not come as a surprise giving the talents behind the camera. American poet Zachary Cotler and Polish novelist Magdalena Zyzak collaborated on both the screenplay and direction with each making their feature film debut.
Rosanna Arquette, Alexander Koch and Orphan Black's fan favorite Jordan Gavaris also co-star. The film is set for theatrical release on October 27th this year, and will be available on VOD on November 14th.
Related: The First Trailer for the Ultra-Sensual Gay Oscar Contender Call Me By Your Name Is Here
See What's Trending in W Video: