May Release: Julianna Margulies
Julianna Margulies Proves You Can Have It All, Michael Crichton's Little Known Art Collection, Bruce Weber Snaps Notable Women, Plus! The Season's Hottest Color- Greige!
---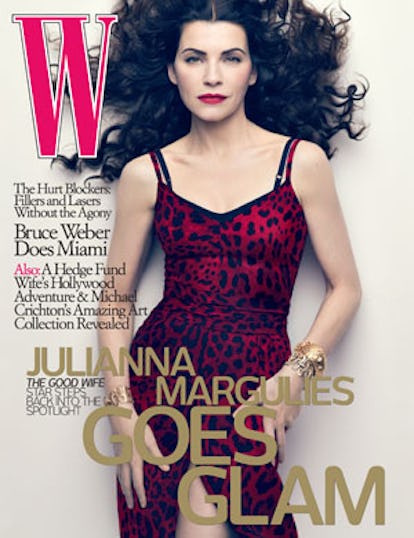 Highlights from the May issue of W magazine are below:
JULIANNA MARGULIES, ACTRESS- PAGE 96:
Her Golden Globe winning performance on The Good Wife has put her back on top. Now, Julianna Margulies is proving it's possible to have it all, speaking to W magazine about reviving her career, falling in love with motherhood and balancing her hectic schedule.
On doing another television series, following her role on E.R.: :"I'll always do television- television celebrates women. It's where the best, richest roles for women are, period."
On drawing inspiration from Silda Spitzer for her role on The Good Wife:"Two months before the whole thing blew up, she looked incredible. And then you saw her standing beside him at that podium, and it looked like she had aged 10 years. And then a year after that, she was in this Vogue article and she looked like a brand new women. There was light in her eyes."
<strongOn seeing the understated allure of playing an older character: "Maybe now I can only play 'the mother of,' never 'the girlfriend of.' But I think you have to go with a role because it's good, not because of what it says about your age."
<strongOn looking refreshed despite her jam-packed schedule: "I know this is going to sound corny, but I love my life. I love my baby, so I love getting to wake up with him. And I have the most amazing job, with writing that any actor would love and costars who I can't wait to see on Monday mornings. And I love coming home to my husband. If I had a job I hated or a husband who I was always fighting with, then I would look tired."
MICHAEL CRICHTON, AUTHOR- page 102
The late Michael Crichton was known to the world as the visionary behind megahit science fiction novels and movies. Now his passion and eye for art are coming to light as his prized collection goes on the block.
BIG SPENDERS- page 52:
Welcome to the world of fashion's big spenders, where six figures can be dropped in a single excursion, downturn be damned. "Big spenders remain in Asia- Hong Kong specifically- followed by Japan. China is gaining more and more big spenders," says Bruno Pavlovsky, Chanel's president of fashion. "Big spenders are definitely looking for extreme quality and the best services."
HURT BLOCKERS- page 62:
While the rise of nonsurgical procedures like Botox, fillers and lasers has been cause for celebration, it has come with its own inconvenient truth: This stuff hurts. A lot. W's Beauty and Health editor Jamie Rosen reports on the significant advances that are making these processes easier to endure.
GREIGE- THE NEW COLOR CRAZE- page 58:
After being seen all over the fall runways, the grey-beige hybrid, greige, is quickly becoming spring's chicest shade. "With the comeback of the more shapely female, something about [the color] says 'femme fatale,'" says Priti Nails founder Kim D'Amato.
FIRST LADIES- page 76:
Be they top models, fashion icons, ballet dancers, or grassroots activists, acclaimed photographer Bruce Weber celebrates admirable women in romantic, spring fashions. While W's fashion director Alex White displays an invisible sense of style with edgy utilitarian and tailored looks in Tough Love (page 108).
Please credit the May issue of W for the above. For additional information or to schedule an interview with a W editor, please contact Elissa Lumley at 212-286-2225, elissa_lumley@condenast.com or Caitlyn Carpanzano at 212-286-2885, caitlyn_carpanzano@condenast.com. Thank you.