May Release: Amy Adams
Amy Adams Talks About Being Uncool, Christopher Buckley Reveals Parents' Conflicted Relationship, Celebrity Trainer Tracey Anderson Changes Body Types, And Discovering Long-Lost Oscar Wilde Collection
---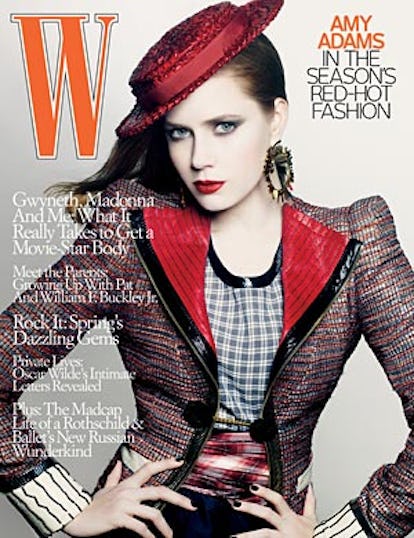 Highlights from the May issue of W magazine include:
ACTRESS, AMY ADAMS
ON ATTENDING THIS YEAR'S ACADEMY AWARDS AS A NOMINEE FOR HER ROLE AS SISTER JAMES IN DOUBT…"I just was so reflective the whole evening on how I came to be sitting in that room. At one point my fiancé was like, 'You feel distant.' And I said, 'I am! I can't even talk to you!' I was there at the Oscars thinking, What if I never left the Gap?"
NOVELIST AND POLITICAL SATIRIST, CHRISTOPHER BUCKLEY
When Mom is the social queen of New York and Dad is the Right's leading intellectual, your childhood—and adulthood—are bound to be perfect memoir fodder. Christopher Buckley, though, long ago resolved not to write a book about his famous parents, Patricia and William F. Buckley Jr. But after his father died of a heart attack in February 2008, just 10 months after his mother's death, Buckley changed his mind and pens a bittersweet memoir, Losing Mum and Pup, of his celebrated and formidable mom and dad.
ON HIS PARENT'S ROCKY RELATIONSHIP…"I was the person in the middle. We clashed often. I was sort of tapped as a go-between marriage counselor. [Pup would say,] 'You wouldn't believe what your mother's done now.' That's not really fair, but I'm not complaining, exactly."
CELEBRITY TRAINER, TRACY ANDERSON
Can you really change your God-given shape? Celebrity trainer Tracy Anderson, whose most famous clients include Madonna and Gwyneth Paltrow, says yes. W editor Jamie Rosen signs up for seven weeks of 90-minutes-a-day,six-days-a week workouts with Tracy in hopes of answering a question that has elicited much debate in the W offices: Can you change your body type? Sure, you can lose weight and tighten up, but can you alter your genetic destiny?
OSCAR WILDE
New York's Morgan Library & Museum received an astonishing present: a handsome album bound in red Morocco leather with a coat of arms stamped in gilt. Inside was the real treasure: a long-lost collection of Oscar Wilde's manuscripts and letters, including the earliest surviving note written to his great love, Lord Alfred Douglas, known as Bosie.
MERLIN HOLLAND, A LEADING WILDE SCHOLAR AND WILDE'S ONLY GRANDSON, ON THE BOOK'S AUTHENTICITY…"It seemed too good to be true. There have been so many forgeries. I thought, What are the chances of an unknown Wilde manuscript coming up?"
Please credit the May issue of W for the above. For additional information or to schedule an interview with a W editor, please contact Engelman & Co. at 212.645.9222. Thank you.