Meet All of Television's Rising Stars
In case you missed it, here is everything you need to know about #ThePopIssue's rising stars of television.
---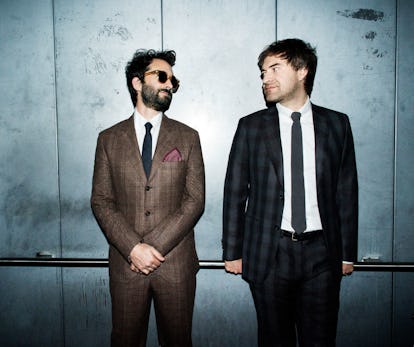 Ones to Watch The most popular shows on television today have their lovely, talented, and social media–savvy stars to thank.
Derek Hough Always Goes For It The Dancing with the Stars performer talks about overcoming embarrassment.
5 Things You Didn't Know About Derek Hough His Instagram account reveals all.
Mindy Kaling Is Great at Life Unlike her character in The Mindy Project.
Let Mindy Kaling Be Your #OOTD Inspiration Mindy Kaling wears many hats—television star, author, comedian—but on Instagram she's all about fashion. #ThePopIssue star has perfected the "outfit of the day" post. And it's not even a little bit annoying—she kills it. Here, 15 of her best looks.
Mindy Kaling's Star Qualities While on-screen Mindy Kaling's characters demonstrate a mastery of office attire, the actresses red carpet ride has been more of a roller coaster. Here, 10 of her best after work ensembles.
Ashley Benson Is Growing Up The Pretty Little Liars star is telling the truth when she says she's glad to be done with high school.
The Secret to Ashley Benson's Social Success
ThePopIssue star Ashley Benson of Pretty Little Liars has, at the age of 25, amassed an incredible social media following. With over 7 million Instagram followers and almost 4 million on Twitter, she's one of the Internet's most popular blondes. What's her secret? Find out here.
Ashley Benson's White Lies The Pretty Little Liars actress knows a thing or two about looking youthful—the 25-year-old has been playing a teenager for six seasons. Clearly, her secret is the little white dress. Study up.
Gillian Anderson Returns to Scully The X-Files actress discusses her role on the small screen.
The Style Files of Gillian Anderson From the original The X-Files to The Fall, the television star has enjoyed a long career in the spotlight. Here, her best looks from 1986 till today.
Yolanda Foster Gets Real The model-turned-Instagram star on Lyme disease, the Real Housewives of Beverly Hills, and her superstar daughters.
Yolanda Foster Made an Instagram Account for Her Fridge You can learn a lot about a person by looking inside their fridge. Especially if that person happens to be Yolanda Foster, mother to social supermodels Gigi and Bella Hadid and owner of the fridge equivalent of Carrie Bradshaw's dream closet. Here, a look inside.
Mark and Jay Duplass Get Together The brothers talk about their recent collaboration.
Don't Fear Lauren Cohan The Walking Dead actress talks about her on-screen battle with zombies, and off-screen relationship to fans.
Thomas Middleditch Is a More Traditional Nerd The Silicon Valley actor offers his take on the techies.
Jussie Smollett Is Not Jamal The Empire actor on what he shares with his on-camera character—and what he doesn't.