Meet Sydney Evan, the Brand For the Girl Who Doesn't Want to Wait for a Man to Buy Her Jewelry
Best known for its Love collection, Sydney Evan is beloved by everyone from Kim Kardashian and Rihanna to Gwyneth Paltrow and Salma Hayek
---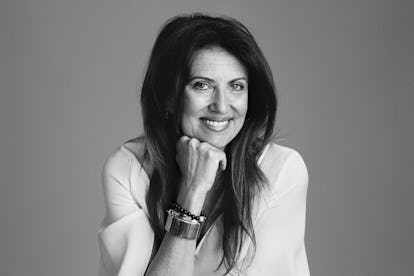 The Los Angeles jewelry label Sydney Evan is among the most ubiquitous in Hollywood, counting everyone from Kim Kardashian and Rihanna to Gwyneth Paltrow and Salma Hayek as fans. That speaks to the work of designer Rosanne Karmes, who started the label, with prices ranging from $300 to $50,000, 15 years ago with a simple diamond horseshoe necklace. Since then, she's become especially well known for her series of Love necklaces and rings, which started casually when she happened to be doodling during a meeting and caught herself writing the word all over her notebook and resolved to make her cursive script in jewelry. Now, to celebrate a momentous anniversary, she's created a celebratory collection of 18 pieces that will be sold at Bergdorf Goodman (it retails between $400 and $19,800). "I've been doing these iconic charms now for fifteen years and I couldn't put them all in a necklace or it would be 60 inches long, so I chose my favorites – love, lucky, happy and protection," she says.
How did you get your start in jewelry? I was in my senior year and I would take the bus from Fairfax High School to downtown L.A., and I was in charge of wholesale orders at a jewelry mart. I then worked for another jewelry company for six years before I opened a showroom called Le Trend representing accessory designers. In 2001, I realized I couldn't do it anymore—I was representing designers who were selling $800 costume jewelry when I could make it for that price in 14-karat gold and diamonds for the girl who never wanted to wait to have a man buy her jewelry. I started off with a little diamond horseshoe, and a heart, a wishbone, and an evil eye. Bergdorf Goodman was the first to ask to carry my line. The then chief executive of Bergdorf's, Jim Gold said, 'You know this is a million dollar a year line, we need to buy into it.' I'll never forget him saying that to me.
What jewelry trends are you seeing with women? The crazy multiple piercings. And I was able to do the first piercing event Bergdorf Goodman ever had.
Who are you designing for? For me. Because I am five years old and I am 95.
What's your favorite stone? I love a lot of things but diamonds are still my favorite, and turquoise because it's my birthstone.
What are the pieces you are known for? My beaded bracelet, my own handwritten 'Love' pendant, the evil eye, hamsa, and diamond whistle pendants. And also some more serious pieces like my diamond link bracelets.
What are your best sellers? My beaded bracelets are 30-40 percent of my business, and then all of the charms.
Do you keep adding to your collection? I just keep designing, I can never say OK I am done for the season because my brain is constantly thinking of things to make. The list of things that I never get done is very long.
Watch W's most popular videos here: