Meet the Designer Behind Charlotte Simone, the Label That's Mastered Faux Fur for the Holidays
Charlotte Beecham, the London-bred New York-based designer, makes colorful scarves–in both real and faux fur–that'll help you make a statement this holiday season.
---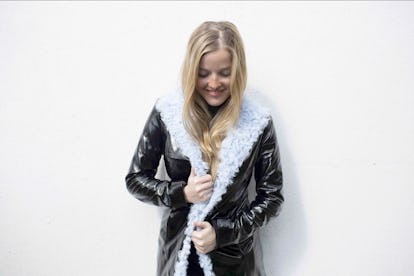 It may come as a surprise to some that London is a bit of a hotbed for designers working with faux fur. But when you consider how the city's fashion week is filled with designers showing bold color and prints, it all makes sense.
"I will be bundled up in my Candy Pink Classic Fuzz," declared Charlotte Beecham, the designer behind Charlotte Simone, a fun label of colorful fur and faux fur scarves when contemplating what she'd pack for the holiday break.
The New York-based designer, who counts Sienna Miller as a fan, is spending Christmas in London with family and, of course, that requires great outerwear, a subject Beecham knows a thing or two about. "Fluffy and furry fabrics are attention-grabbing and so snug," she said. "That's a key ingredient to the Charlotte Simone recipe."
What made you decide to go into designing accessories? I've always had a true love of accessories. I'm forever saving for one, special piece. In the world of accessories I did feel like there was a gap in the market for a 'fashion scarf'. A scarf that could be a statement of style rather than a practical winter warmer.
What was your particular interest in faux fur versus real fur? The quality of faux fur has come along leaps and bounds. Faux fur is no longer taboo. It is soft and snug and luxe to touch. It allows a great entry point for my customers, as well.
What was it like getting a business off the ground? I was still a student in college when I started Charlotte Simone. I didn't have a clue about what I was getting myself into. Hard work, dedication and an entrepreneurial spirit, instilled in me from my father, were all essential to where the business has grown to today.
What were the main pieces you began with? The Popsicle was and still remains my trademark style. It's a fluffy stole with a fluorescent tail. Its designed to elevate any look and appeal to ladies of all ages. I think that's key; no sizing and for any age range. It's a fluffy and fun statement, and available in both real and faux furs.
What trends are you seeing among women right now that you're excited about? I love patent leather; it's a huge trend this winter. My Mac-Daddy in my Winter range is a fluffy take on the classic Mac. I've been wearing it all winter long.
When did you feel the label was on the right track? I felt the label was really moving in a strong direction when I secured my first major account, Harvey Nichols in London. Their support and guidance definitely helped me elevate the brand to where I wanted it to be.
What's up next? I have really exciting plans on the horizon but most importantly, expanding the accessory selection! I'm forever growing the scarf category but look out for some new accessories added into the new winter range!
Predicting The Fashion Trends of 2017
Wear Color – Because 2017 is about getting out of the comfort zone, and retiring black to the back of the closet. Leading the trend is Balenciaga's Demna Gvasalia, whose color-blocked looks (including spandex pants, encasing the shoe), will be a key moment for spring.

Photo by Getty Images.
Wear Pink, specifically – Despite what Pantone says, pink is the color for 2017. Celine offers a fresh caped dress in pepto-pink for spring, while Chanel, Chloe, Gucci, Loewe, and Valentino weren't far behind with their take on the true color of the season.
Shoulders – Baring them was very 2016, and a voluminous architectural shoulder and sleeve is the way to go for 2017. Look to Rodarte, Jacquemus, and Saint Laurent for ways to wear this new shape.

Photo by Getty Images.
Sport – Athlesiure may have defined this year, but sport will determine the next. Put away your loose yoga sweats and try a stronger, sexier take, a la Courreges

Photo by Getty Images.
Utilitarian – Khaki and cargo pants will reign again, yet it is a polished utilitarian look we'll see next year. Take a cue from Balenciaga, Bottega Veneta, Marni, and Stella McCartney.

Photo by Getty Images.
Stripes – Stripes are never out of style. For 2017, they'll either take the form of super-skinny pinstripes, or the exact opposite. Keep your eye out from these great wide-striped wide-legs from Derek Lam.

Image courtesy of designer.
Bows – As fashion becomes more romantic again (thanks to Alessandro Michele at Gucci), a number of brands are turning to their softer side. We'll wear big, sweet bows from Coach, Fenty x Puma, and Erdem.

Photo by Getty Images.
Shirting – is still everywhere. How many ways can you wear a button-down? For 2017, get on board with smart and sexy options from new New York label Monse.

Photo by Getty Images.