Megan Thee Stallion Calls For the Protection of Black Women
"We deserve to be protected as human beings. And we are entitled to our anger about a laundry list of mistreatment and neglect that we suffer."
---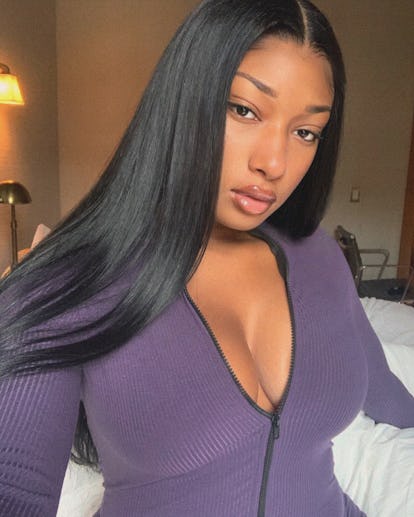 Megan Thee Stallion. Courtesy of Instagram.
"What does it mean to be a woman of color?" asks Megan Thee Stallion in the video component of an op-ed piece she wrote for The New York Times. "She marches for everyone else, riots for everyone else, dies for everyone else. She loves everyone else, lives for everyone else, but when it comes down to her, it ain't a motherf—-r in sight," she narrates.
In the opinion piece, the 25-year-old musician expounded upon her personal experience with gun violence, the unique double standards placed upon and conflicting messages sent to Black women across the world, racial biases in our healthcare system, the fact that 91% of the transgender or gender-nonconforming people who were violently killed in 2019 were Black, as well as the hip hop industry's insistence on pitting her against Nicki Minaj and Cardi B. "I'm not 'the new' anyone; we are all unique in our own ways," she said.
She also explained her decision to "harshly rebuke" Daniel Cameron—the Attorney General of Kentucky who, in a grand jury hearing, denied justice to Breonna Taylor, who was shot to death by police officers who burst into her home in March—during her Saturday Night Live appearance in October.
During her performance of "Savage," she projected the words "Protect Black Women" on the stage, and cited the late Congressman John Lewis as inspiration for making such a statement without fear of backlash. "I'm not afraid of criticism," she wrote. "We live in a country where we have the freedom to criticize elected officials. And it's ridiculous that some people think the simple phrase 'Protect Black women' is controversial. We deserve to be protected as human beings. And we are entitled to our anger about a laundry list of mistreatment and neglect that we suffer."
In reference to her own experience with gun violence at the hands of musician Tory Lanez, who was charged with a felony assault in the shooting last week, Megan Thee Stallion set the record straight on what happened to her. "I was recently the victim of an act of violence by a man," she said. "After a party, I was shot twice as I walked away from him. We were not in a relationship. Truthfully, I was shocked that I ended up in that place."
When the shooting occurred, Megan Thee Stallion initially remained silent, until finally speaking up on social media days after receiving threats and backlash from Lanez's supporters on her social accounts, as well as being on the receiving end of jokes about her wellbeing.
"My initial silence about what happened was out of fear for myself and my friends. Even as a victim, I have been met with skepticism and judgment," she explained in The New York Times. "The way people have publicly questioned and debated whether I played a role in my own violent assault proves that my fears about discussing what happened were, unfortunately, warranted."
"Wouldn't it be nice if Black girls weren't inundated with negative, sexist comments about Black women? If they were told instead of the many important things that we've achieved?" she asked, before listing the many Black trailblazers that the musician said she wishes she would have learned about in school, from NASA research mathematician Katherine Johnson to Black Lives Matter co-founder Patrisse Cullors to Senator Kamala Harris. "But that will take time, and Black women are not naïve. We know that after the last ballot is cast and the vote is tallied, we are likely to go back to fighting for ourselves. Because at least for now, that's all we have."