There Are Only Two Types of Quarantine Music Videos
Allow Megan Thee Stallion and Lil Uzi Vert to show you how to make a music video in quarantine, with "Savage" and "Wassup."
---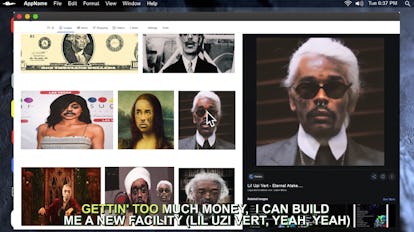 Image courtesy of YouTube.
We are living in a new age where a music video cannot just be built up via storyboard, filmed, and edited the way one could have made one just a few months ago. Due to the coronavirus pandemic, many are stuck at home, either alone or just without their typical resources, and musicians are no exception. People are getting creative—some musicians have taken to producing and recording entire albums on their own in quarantine (we're looking at you Charli XCX) and others have released a set of B-sides they've been sitting on all year long (Carly Rae Jepsen, for example).
But when it comes to filming music videos for new tracks in quarantine, a musician has limited options when it comes to making a video: they can either film a socially distant set of scenes that cut away to multiple people in varying locales, get on a Zoom call and screen record, or lipsynch into their phone's camera by themselves.
They could also try animating themselves from scratch, or conjuring up some deepfakes to make it look like more people are involved in the video than there actually were. Such is the case for Megan Thee Stallion and Lil Uzi Vert, respectively.
When Megan Thee Stallion released "Savage," it quickly took on a life of its own, mostly thanks to TikTok turning the song into the soundtrack of the app with a viral dance challenge, and partially thanks to a self-aware remix with Beyoncé. Many wondered what would happen with a music video for what has undoubtedly already become the song of the summer before the summer has even started, but now we have our answer.
Instead of doing the obvious—a compilation of random TikTok teens attempting to do the "Savage" challenge, juxtaposed with the rappers own attempts—Megan Thee Stallion animated herself into a video game character with a retro aesthetic. She's been vocal before about her love of anime, classic video games, and other generally nerdy fare, but animating herself for the "Savage" video—and incorporating the dance for her avatar to try, too—brings it to a whole new level.
Lil Uzi Vert, who recently dropped a video for "Wassup" featuring Future, took CGI in a different direction. After manipulating the images of celebrities and world leaders like Young Thug, Nicki Minaj, Kanye West (wearing a MAGA hat), Donald Trump, Kim Jong Un, Prince Harry and Meghan Markle to make it appear as if they are singing the lyrics to "Wassup," he then created deepfakes that superimpose his face into the faces of many inventors and artists, from Steve Jobs and Albert Einstein to Jean-Michel Basquiat and Frida Kahlo. He even mapped his face onto the separate images of the Kardashians from the Keeping Up with the Kardashians poster. He did the same for Future with John F. Kennedy.
You could think of it as a 2020 riff on West's polarizing "Famous" music video—in which the rapper included naked wax figures of his enemies (Taylor Swift), collaborators (Rihanna), exes (Amber Rose), and generally controversial figures (Chris Brown, Bill Cosby, George W. Bush) all sharing the same bed with him and his wife—but just maybe a little bit less contentious. It's another way to get a bunch of famous people in your video without actually getting them to sign up for it.
As noted on YouTube, "Wassup" is technically just a lyric video, so an in-the-flesh version of it could be in the works for once the pandemic is over. And as for "Savage," we'll still be waiting on that remix video with Beyoncé, too.