Meghan Markle and Kate Middleton Have Formed a Close Friendship Bonding Over Their Normal Upbringings
They've been bonding over their normal upbringings.
---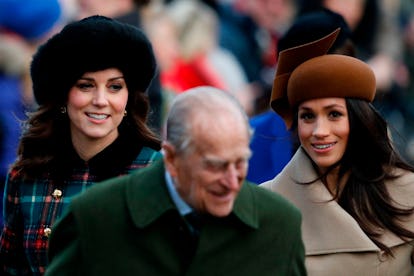 ADRIAN DENNIS/AFP/Getty Images
While Queen Elizabeth II may still reign over England, there's already a new generation rising of generations at the Royal Palace. Meghan Markle's engagement to Prince Harry is confirmation of that, as the former actress will become the first American and divorced royal — both of which were previously taboo, leading to the abdication of the queen's uncle Edward VIII in 1936, a moment that was thoroughly explored in Netflix's The Crown. One more symbol that the royal family is moving towards modern times, however, is the fast friendship that's been struck between Kate Middleton and Markle, who both grew up leading relatively normal lives.
It's their non-royal upbringings that the sister-in-laws to be have most bonded over, as Middleton has been aiding Markle with her transition into a life of even more scrutiny and public obligations than her previous job. "It's becoming very clear within the family that William, Catherine, Harry and Meghan are the future of the royal family so everything rests on making sure Meghan eases naturally into her role," a source close to the royal family told E! News. "That's a big priority for everyone. Catherine did it and so they know it's possible for an outsider, without any prior interactions with the establishment, to integrate well. Catherine is very aware that Meghan will need a friend alongside her while she gets used to the way things are done around here."
It was last January that Markle and Middleton finally met and, according to the source, it "went very well. Kate was delighted to finally get to meet the woman that had Harry smiling so much." Markle and her fiancé opened up about the meeting themselves in their post-engagement interview last November with Prince Harry recalling, "It was exciting. I mean I've – you know I'd been seeing her for a period of time when I – literally didn't tell anybody at all. And then William was longing to meet her and so was Catherine, so you know being our neighbours we managed to get that in a couple of – well quite a few times now and Catherine has been absolutely… Amazing, as has William as well. And then my father as well."
It helps that Prince Harry had a close relationship with Middleton before she and Markle became friends. "It's been said Kate and Harry have the same silly sense of humor, love watching Game of Thrones box sets together, and she would give him dating advice from time to time," the source says. Middleton has now been extending her advice to Markle: "Since very early on she made it clear that should Meghan ever need something, or just want to chat, she shouldn't hesitate to get in touch," "Kate knows how difficult it is navigating one's way through this very different world. [And] it was important to [Harry] that Meghan and Kate got to know each other, as she has experienced many of the challenges Meghan now faces."
Related: Meghan Markle Will Break Tradition and Give Her Own Wedding Speech