Meghan Markle's New Diamond Bracelet May Have a Hidden Meaning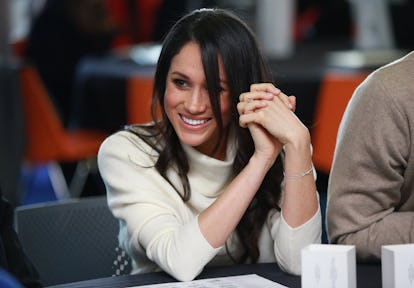 Ian Vogler – WPA Pool/Getty Images
Another day, another Meghan Markle outfit to examine and analyze. In today's edition, we're taking a look at a delicate new bracelet featuring a cross that Kate Middleton's future sister-in-law was spotted wearing this week. Let's dive in, shall we?
As one might imagine, there is a lot of work that goes into being a royal-to-be. Etiquette lessons and memorizing frankly outdated rules about style are par for the course when it comes to catapulting someone into the highest ranks of British aristocracy. Markle, by all accounts, appears to be doing swimmingly so far, but there was one lesser-marked occasion recently that's an important step in the process of becoming British-royal: being baptized into the Church of England, the institution that dates back to when King Henry VIII split with the Catholic Church after the Pope wouldn't grant Henry an annulment in his marriage to Catherine of Aragon. Fast forward to 2018, and Markle, who was raised Episcopalian, is now one of the Church of England's newest high-profile members after a secret Tuesday evening baptism ceremony. (Queen Elizabeth, by the way, functions as the head of the Church, per royal tradition.)
It wasn't long after that Markle was spotted wearing a sparkly new cross bracelet—notably, during a visit to Birmingham with her fiancé on Thursday. People did a deep dive into the matter and reports that the jewelry "is believed to represent her recent confirmation." (Some people receive bracelets featuring crosses for their baptisms.) It could, reportedly, be a custom piece, though she layered it over a $925 horizontal bar band from Birks' (a favorite of Markle's) Rosée du Matin collection.
Here's a (very close) look at it:
Following the confirmation and baptism, it's TBD what Markle's next step is toward becoming a royal—but it's likely that whatever it is, it will be thoroughly covered by the media.