Meghan Markle Is Now an Official Member of the Church of England After Her Secret Baptism
After a private baptism ceremony and confirmation into the Anglican Church, Meghan Markle is almost an official royal.
---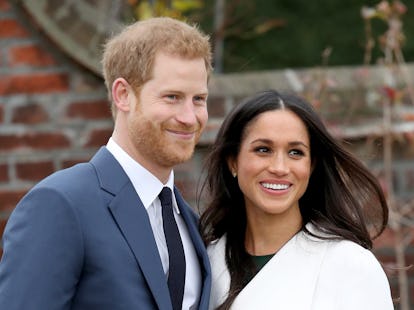 Chris Jackson/Getty Images
When it comes to royal rituals, Meghan Markle has a way with bending the rules just enough, but this week she stuck to tradition, privately joining the Church of England. It's just one more step to her becoming an official member of the royal family.
Under the cover of night, Meghan Markle reportedly underwent a private baptism to become a legitimate member of the Church of England. The secret ceremony reportedly took place at St James's Palace, in London, and was conducted by Justin Welby, the Archbishop of Canterbury, who anointed Markle with holy water from the River Jordan. The Daily Mail also reports that the event was a family affair—not only did Prince Harry attend his fiancée's baptism, but Prince Charles and Camilla, Duchess of Cornwall, also appeared at the Royal Chapel for the service.
The ceremony did not stop at Markle's baptism. The future royal was also confirmed into the church, meaning she will now be able to participate in the sacrament of Holy Communion during her wedding to Prince Harry, who was raised in the Church of England since shortly after his birth. Markle reportedly grew up Episcopalian and attended a Catholic high school while living in Los Angeles, and while a formal baptism into the Church of England is technically not necessary, it is a traditional step for those who plan to marry into the royal family. Kate Middleton participated in the same course, attending a private confirmation ceremony at the Royal Chapel just weeks before marrying Prince William in 2011.
The Royal Chapel at St James's Palace will not be the site of the couple's wedding on May 19, but it does hold a special place in the hearts of the royal family. It was the site where Princess Diana's body lay for a week before her funeral in 1997, as well as the chapel where Prince George was christened in 2013.
Related: Prince Harry and Meghan Markle Will Invite Members of the General Public to Their Wedding