Meghan Markle May Have Broken Royal Protocol By Speaking Out About Time's Up
In her first joint public appearance with Prince Harry, Kate Middleton and Prince William, the future royal continued to bend tradition by speaking about "women's empowerment" on a panel at The Royal Foundation.
---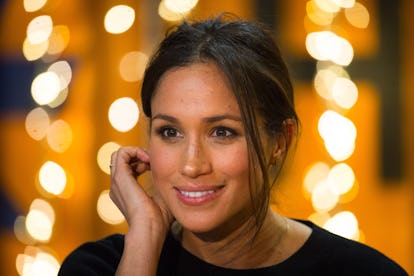 Dominic Lipinski/WPA Pool/Getty Images
Meghan Markle continues to shake things up in the royal sphere, this time by making a statement on a political movement.
Meghan Markle, Prince Harry, Kate Middleton and Prince William appeared together for a panel discussion at The Royal Foundation on Monday, to address the charitable work to be organized by The Royal Foundation, marking the first official press appearance for all four of them together. To make a statement about anything political is a violation of royal protocol, but Markle is no stranger to bending tradition—she's already given an official royal speech before marrying into the royal family, and at The Royal Foundation panel, she may have broken the rules by sharing her opinions on the subject of "women's empowerment."
"I hear a lot of people speaking about girls' empowerment and women's empowerment—you will hear people saying they are helping women find their voices," Markle said to the panel's moderator. "I fundamentally disagree with that because women don't need to find their voices, they need to be empowered to use it and people need to be urged to listen."
Rather than remaining demure and passive in the face of difficult topics like assault, Markle continued to address the issue in a public forum, and as a former actress, of course it makes sense that Markle would have opinions on Hollywood. She commented on the #MeToo and Time's Up campaigns while speaking on the panel at The Royal Foundation, saying, "Right now with so many campaigns like MeToo and Time's Up there's no better time to continue to shine a light on women feeling empowered and people supporting them."
Typically, a royal would have to find a sly way to show their support for a political movement like Time's Up, but Markle has managed to get straight to the point. While Markle's comments at The Royal Foundation may not have indicated any particular plan of action to be taken as of yet in regards to the #MeToo and Time's Up movements, it is an incredibly big deal for a future high ranking royal to address the rampant sexual harassment in an industry under which she was formerly employed. For example, Kate Middleton was unable to participate in the black dress code at the 2018 BAFTAs lest she defy protocol, but she is already a member of the royal family and Markle has a few more months left before making it official, so maybe if she eases the monarchy into these adjustments before she marries in, they might be more open to change in the future. It is not everyday that a member of the royal family would make open and honest opinionated remarks on a political movement like Time's Up, but it would appear that Markle has had some good examples to follow.
"Both our parents had provided for us an example of diligence, compassion and duty in all they did. Our grandparents, The Queen and The Duke of Edinburgh, had made support for charity central to their decades of service to the nation and the Commonwealth," Prince William announced at the forum. Prince Harry and Prince William have been inspired by Princess Diana's commitment to educating the public and bringing awareness to the AIDS crisis, while encouraging her children to follow in her footsteps by challenging both the masses and the royal family to take action and speak out about worldwide issues that have been ignored in the past.
Both Markle and Prince Harry remarked that they will have to wait until after their wedding ceremony on May 19 to get things moving with The Royal Foundation, but Prince Harry's support and excitement for his fiancée to join the charitable organization was palpable. "I am personally incredibly proud and excited that my soon-to-be-wife who is equally passionate about seeing positive change in the world will soon be joining us with this work," Prince Harry told the crowd.
Related: The Spice Girls May Be Performing at Prince Harry and Meghan Markle's Royal Wedding