Prince Harry Honors Princess Diana's Dedication to Improving AIDS Awareness and Education
"She knew exactly what she was doing."
---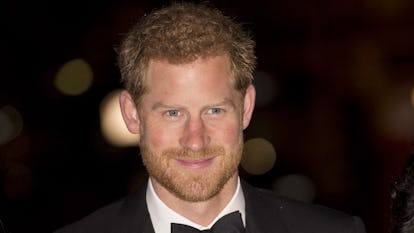 Mark Cuthbert/UK Press/Getty Images
Though he was still a toddler when his mother began her efforts to simultaneously destigmatize and fight the AIDS epidemic, Prince Harry is now fully committed to carrying on Princess Diana's mission. Thirty years after Diana opened the UK's first HIV/AIDS unit at Middlesex Hospital in London and was photographed there shaking hands, sans gloves, with an HIV-positive patient, Harry accepted Attitude magazine's Legacy Award on her behalf and celebrated her groundbreaking work in a heartfelt speech.
Attitude, a British LGBT lifestyle magazine, held its annual awards ceremony at the Roundhouse theater, in the Camden borough of London, on Thursday night. In the acceptance speech for his late mother's award—as seen in a video shared by the official Kensington Palace Twitter account—Harry noted that his mother was dedicated throughout her life to taking on challenges that nobody else would. "She felt a responsibility to shine her spotlight on the people and issues that were often ignored, " he said. "She knew that AIDS was one of the things that many wanted to ignore and seemed like a hopeless challenge."
Prince Harry also discussed Diana's then-shocking handshake in 1987, when it was still widely believed amongst the uninformed that HIV could be transmitted via any skin-to-skin contact. "When, that April, she shook the hand of a 32-year-old man with HIV, in front of the cameras, she knew exactly what she was doing," he said. "She was using her position as Princess of Wales, the most famous woman in the world, to challenge everyone to educate themselves, to find their compassion, and to reach out to those who need help instead of pushing them away."
The 33-year-old continued, "She wanted to get to know those who were dying not as statistics or patients, but as people. In the year before my mother's death, the first truly effective anti-retroviral treatments were developed for HIV and AIDS. She did not live to see this treatment become widely available and save countless lives in the UK and around the world."
If she was still alive, however, Harry said he knows what she would be doing. "I believe that she would be telling everyone across society—not just those most at risk—that with effective treatment being free and available in the UK, that we must all embrace regular testing, both for our own sake and for those that we love," he said. "She would be demanding that same access to treatment and testing for young people in Africa and across the world. And she would, of course, of course, be standing alongside those who are living openly, as healthy, happy, and HIV-positive."
Prince Harry has previously upheld his mother's legacy in the fight against AIDS. Last December, he joined Rihanna in getting HIV tests on camera in honor of World AIDS Day.
Related: Prince Harry and Meghan Markle Took Their First Public Pictures As a Couple at Invictus Games Toronto
"Hideaway" Is Mykki Blanco's Artful Exploration of HIV Stigma: