Meghan Markle and Prince Harry's Official Royal Engagement Photos Are Predictably Very Cute
The official portraits were taken at Frogmore House, Windsor by Alexi Lubomirski.
---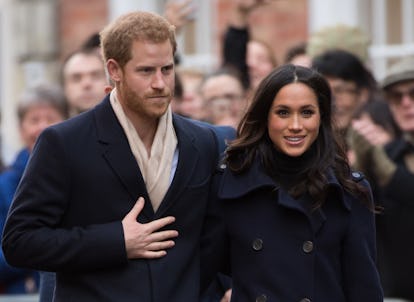 Samir Samir Hussein/Samir Hussein/WireImage
It's been quite a week for royal photos—Prince William and Kate Middleton released their color coordinated Christmas card on Monday, and Crown Princess Victoria of Sweden shared a snowy holiday photo of her family as well, but now there are two more that just might be the royal portrait to end all royal portraits. Just a few short week after Meghan Markle and Prince Harry announced their engagement through the Royal Palace's Instagram, they have also released their official engagement portraits.
An intimate black-and-white close-up of the future newlyweds, in addition to a slightly more traditionally posed (but not too traditional or boring) seated shot comprise the two portraits that were taken earlier this week at Fogmore House, Windsor. Markle's Cleave and Company engagement ring—which Harry designed himself—is on full in both of the romantic photographs. As a special treat for us all, the royal couple also decided to "say thank you" by sharing a stunning, candid black-and-white photograph from the day of the photo shoot.
The official photos of the couple, which were taken by fashion photographer Alexi Lubomirski, were posted Thursday morning to Kensington Palace's Instagram account. The British-born Lubomirski has a bit of a royal edge to himself as well—he discovered at the young age of 4 years old that he is a member of the Polish Royal family. As a budding photographer Lubomirski worked under Mario Testino, and his recent work includes photographs of Angelina Jolie, Lupita Nyong'o and even Beyoncé. The photographer shared the photos on his personal account as well, saying it was "an incredible honour, but also an immense privilege to be invited to share and be a witness to this young couple's love for each other.
The official royal wedding date has been set for May 19, 2018 (shortly after Kate Middleton's due date for the birth of her third child), which means we have just about five more months to look forward to plenty more royal surprises to hopefully be announced on Kensington Palace's Instagram account—like insider photos from Queen Elizabeth II's traditional pre-Christmas lunch, any hint of evidence regarding Markle's wedding dress or how she and Prince Harry plan to spend their New Year's Eve.
Related: Meghan Markle Joined the Entire Royal Family for a Pre-Christmas Lunch With the Queen