Prince William and Kate Middleton Reveal Their Very Cute—And Very Color-Coordinated—Royal Christmas Card
Blue never looked so good.
---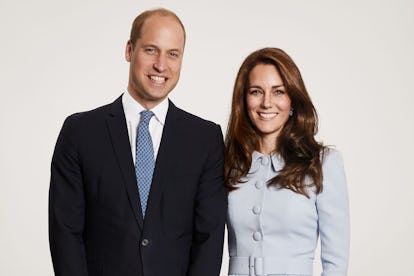 Chris Jackson/Getty Images
Tis the season for holiday cards to start rolling in from your favorite cousin, that aunt you never see, and the royal family, of course. And, much like your family card (or the Kardashians), the Mountbatten-Windsor's posed in color-coordinated outfits against a simple white background. Prince William, Kate Middleton, Prince George, and Princess Charlotte all wore pale blue, with the Duchess of Cambridge opting for a Catherine Walker suit that seems to be a favorite piece. According to People, Chris Jackson, royal photographer for Getty Images — who also took Prince George's official birthday portrait at July — snapped the picture likely at the same event, as George is donning the same outfit. That means this family picture was taken before Middleton announced that she is expecting her third child, due in April 2018. Though no one can deny the adorable and symmetrical 2017 Christmas card, next year's batch is sure to look entirely different with a new baby. Prince William's brood is not the only royal family to debut their annual holiday card today. Clarence House also released a simple snap of Prince Charles and Camilla, taken at the Duchess of Cornwall's 70th birthday party in July.
The young royals will have an extremely busy first half of 2018. With Kate expecting in April and a wedding for Prince Harry and Meghan Markle the following month, there is lots of planning to be done. Prince William has already begun planning his younger brother's bachelor party, also known as a stag party in England, though it reportedly won't be anything too "wild." And while Pippa Middleton recently opted for a ski weekend in the Swiss Alps for her hen party, it's likely that Meghan Markle will choose something different, especially due to her sister-in-law-to-be's current condition. One thing's for sure, it's an exciting time for the royals—can't you tell from the look on Princess Charlotte's face?
See the adorable photo, below.
Related: Unlike Leonardo DiCaprio, Prince William Would Like to Avoid a Dad Bod Altogether