The Royal Wedding Rings Revealed to Be Welsh Gold From Queen Elizabeth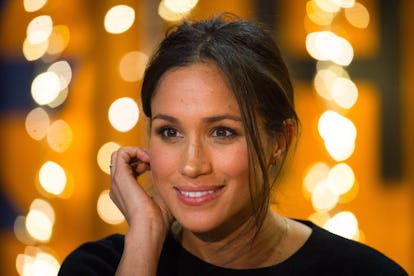 Dominic Lipinski/WPA Pool/Getty Images
They may be small compared to the opulent decorations and dresses on display for the royal wedding of Prince Harry and Meghan Markle, but in many ways, the rings are the most important objects of the day. They are the only ones that will continue to be worn tomorrow (and, we assume, for the rest of Harry and Meghan's lives), and they symbolize the marriage that is the point of the whole event. So getting them right is paramount.
Now, the palace has revealed that for their rings, Harry and Meghan chose Cleave And Company. Per a royal blog post, "Ms. Markle's ring has been fashioned from a piece of Welsh Gold, gifted by Her Majesty The Queen. Prince Harry's ring will be a Platinum Band with a textured finish. Both rings were crafted in the Cleave workshop."
What is Welsh Gold, you ask, and how is it different from Normal Gold? Well, according to Wikipedia, the leading experts on all things things, "Welsh gold is gold that occurs naturally in two distinct areas of Wales and highly prized because of its origin and scarcity." So it's old and rare and cool and ancient Celtic priestesses wore it, probably.
The ring and band are both en route to the ceremony with Prince William, who is his younger brother's best man. Not saying we're tearing up thinking about how proud Diana would be right now, but we're also not not saying that.
Will Markle's preference in this case cause a trend like it has for so many shoes and purses? Are we about to see a major Welsh gold trend or, like teeny hats, is this a fashion best left across the pond? Time will tell! Although the rest of us may not be so lucky as to have a grandmother-in-law who can just gift us with gold.
Related: Prince Harry and Meghan Markle Are Getting the Royal Titles Everyone Expected
Royal Wedding Photos: All the Celebrity and Royal Arrivals at Prince Harry and Meghan Markle's Ceremony at Windsor Castle
Meghan Markle with her mother Doria Ragland (unseen) drive down the Long Walk as they arrive at Windsor Castle ahead of her wedding to Prince Harry on May 19, 2018 in Windsor, England.

Richard Heathcote
Meghan Markle (R) with her mother Doria Ragland drive down the Long Walk as they arrive at Windsor Castle ahead of her wedding to Prince Harry on May 19, 2018 in Windsor, England.

Richard Heathcote
Meghan Markle arrives for her wedding to Prince Harry at St George's Chapel, Windsor Castle on May 19, 2018 in Windsor, England.

WPA Pool
Meghan Markle arrives for the wedding ceremony to marry Prince Harry at St George's Chapel, Windsor Castle on May 19, 2018 in Windsor, England.

WPA Pool
Queen Elizabeth II arrives at the wedding of Prince Harry to Ms Meghan Markle at St George's Chapel, Windsor Castle on May 19, 2018 in Windsor, England. Prince Henry Charles Albert David of Wales marries Ms. Meghan Markle in a service at St George's Chapel inside the grounds of Windsor Castle.

Shaun Botterill
Queen Elizabeth II arrives at St George's Chapel at Windsor Castle before the wedding of Prince Harry to Meghan Markle on May 19, 2018 in Windsor, England.

WPA Pool
Queen Elizabeth II arrives at St George's Chapel at Windsor Castle before the wedding of Prince Harry to Meghan Markle on May 19, 2018 in Windsor, England.

WPA Pool
Doria Ragland arrives at St George's Chapel at Windsor Castle before the wedding of Prince Harry to Meghan Markle on May 19, 2018 in Windsor, England.

WPA Pool
Meghan Markle arrives at St George's Chapel at Windsor Castle before the wedding of Prince Harry to Meghan Markle on May 19, 2018 in Windsor, England.

WPA Pool
Prince Harry (left) walks with his best man, Prince William Duke of Cambridge, as he arrives at St George's Chapel at Windsor Castle for his wedding to Meghan Markle, on May 19, 2018 in Windsor, England.

WPA Pool
Prince Harry and Prince William, Duke of Cambridge the wedding of Prince Harry to Ms Meghan Markle at St George's Chapel, Windsor Castle on May 19, 2018 in Windsor, England.

Shaun Botterill
Prince Harry (left) walks with his best man, Prince William, Duke of Cambridge as they arrive at St George's Chapel at Windsor Castle before the wedding of Prince Harry to Meghan Markle on May 19, 2018 in Windsor, England.

WPA Pool
Prince Philip, Duke of Edinburgh rrives at St George's Chapel at Windsor Castle before the wedding of Prince Harry to Meghan Markle on May 19, 2018 in Windsor, England.

WPA Pool
Princess Anne, The Princess Royal and Vice Admiral Sir Tim Laurence arrive at St George's Chapel at Windsor Castle before the wedding of Prince Harry to Meghan Markle on May 19, 2018 in Windsor, England.

WPA Pool
Amal and George Clooney arrive at St George's Chapel at Windsor Castle before the wedding of Prince Harry to Meghan Markle on May 19, 2018 in Windsor, England.

WPA Pool
Sarah, Duchess of York arrives at St George's Chapel at Windsor Castle before the wedding of Prince Harry to Meghan Markle on May 19, 2018 in Windsor, England.

WPA Pool
Abigail Spencer and Priyanka Chopra arrive at the wedding of Prince Harry to Ms Meghan Markle at St George's Chapel, Windsor Castle on May 19, 2018 in Windsor, England.

Chris Jackson
Serena Williams and Alexis Ohanian attend the wedding of Prince Harry to Ms Meghan Markle at St George's Chapel, Windsor Castle on May 19, 2018 in Windsor, England.

Shaun Botterill
David and Victoria Beckham attend the wedding of Prince Harry to Ms Meghan Markle at St George's Chapel, Windsor Castle on May 19, 2018 in Windsor, England.

Shaun Botterill
David and Victoria Beckham (both right) talk with Sir Elton John (L) and David Furnish (C) as they arrive in St George's Chapel at Windsor Castle for the wedding of Prince Harry to Meghan Markle on May 19, 2018 in Windsor, England.

WPA Pool
Julia Carey and James Corden attend the wedding of Prince Harry to Ms Meghan Markle at St George's Chapel, Windsor Castle on May 19, 2018 in Windsor, England.

Shaun Botterill
Idris Elba and Sabrina Dhowre followed by Oprah Winfrey (fourth right) arrive at St George's Chapel at Windsor Castle for the wedding of Meghan Markle and Prince Harry on May 19, 2018 in Windsor, England.

WPA Pool/Getty
Lady Kitty Spencer arrives at the wedding of Prince Harry to Ms Meghan Markle at St George's Chapel, Windsor Castle on May 19, 2018 in Windsor, England.

Chris Jackson
Cressida Bonas arrives at St George's Chapel at Windsor Castle before the wedding of Prince Harry to Meghan Markle on May 19, 2018 in Windsor, England.

WPA Pool
Actress Gina Torres (Markle's former costar on Suits) arrives at St George's Chapel at Windsor Castle before the wedding of Prince Harry to Meghan Markle on May 19, 2018 in Windsor, England.

WPA Pool
Oprah Winfrey arrives at St George's Chapel at Windsor Castle before the wedding of Prince Harry to Meghan Markle on May 19, 2018 in Windsor, England.

WPA Pool
Socialite Delfina Blaquier arrives at the wedding of Prince Harry to Ms Meghan Markle at St George's Chapel, Windsor Castle on May 19, 2018 in Windsor, England.

Chris Jackson
Charles Spencer, 9th Earl Spencer and Karen Spencer arrive at the wedding of Prince Harry to Ms Meghan Markle at St George's Chapel, Windsor Castle on May 19, 2018 in Windsor, England.

Chris Jackson
Sofia Wellesley and singer James Blunt arrive at St George's Chapel at Windsor Castle for the wedding of Prince Harry to Meghan Markle on May 19, 2018 in Windsor, England.

WPA Pool
Chelsy Davy, Prince Harry's ex, attends the wedding of Prince Harry to Ms Meghan Markle at St George's Chapel, Windsor Castle on May 19, 2018 in Windsor, England.

Shaun Botterill