Instead of Wedding Gifts, Meghan Markle and Prince Harry Want You to Donate to These Charities
They'd prefer you to donate to these charities instead.
---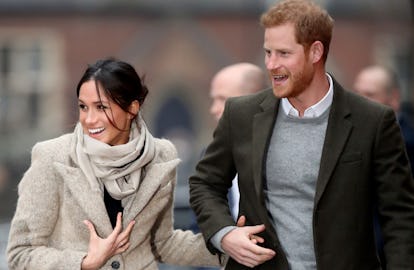 Getty Images
It's customary for members of the royal family who are getting married to forgo wedding gifts in favor of charitable donations, and Meghan Markle and Prince Harry] are no exception to this tradition, despite all the supposed protocol-breaking Markle has been doing lately. Just a few weeks before they tie the knot in front of the world, Markle and Prince Harry have officially announced the charities they'd like for their guests—and the public—to give to in lieu of sending lavish presents. Both are known humanitarians, and the organizations they picked all help causes close to their hearts.
The first is the Children's HIV Association (CHIVA), which supports children who have HIV and their families across the United Kingdom and Ireland. "We are grateful for the opportunity to raise awareness of the complex issues for young people growing up with HIV," CHIVA's chair Amanda Williams, M.D., said in regards to the couple's decision. "We are a very small charity and through our work we support over 1,000 young people living with HIV. All donations will make a significant difference to our programs of work and lead to direct improvements in the lives of these young people."
Up next is Crisis, England's national charity that helps homeless people by giving them the tools to rebuild their lives. Meghan and Harry also picked the Myna Mahila, which helps women in Mumbai's "urban slums" grow personally and professionally by creating trusted networks. Meghan actually wrote about this organization in a 2015 piece for Time magazine.
The fourth charity they've selected is Scotty's Little Soldiers, which gives support to children who've lost a parent that served in the British Armed Forces. "To have been personally chosen by Prince Harry and Meghan Markle is an incredible honor for Scotty's Little Soldiers and we are extremely grateful for the opportunity," Scotty's Little Soldiers founder Nikki Scott said in a statement to Kensington Palace.
The couple also picked StreetGames, which uses sports to help people in U.K. communities make healthier, lifelong changes; Surfers Against Sewage, a national marine conservation that encourages people to help protect the oceans; and The Wilderness Foundation, aimed at using the outdoors to help "vulnerable teenagers."
And there you have it, my friends. Donating to charities always feels good, but now you'll have the added of bonus of getting to say you gave the royal couple a wedding "gift."
Related Stories: There Will Be an Official Royal Wedding Perfume For Prince Harry and Meghan Markle, For Some Reason