Watch Meghan Markle See Her Givenchy Wedding Dress the Day Before the Royal Wedding
The sweet moment was captured in an upcoming docuseries about the queen.
---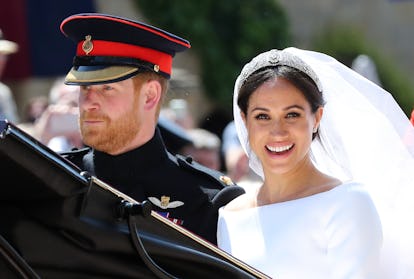 WPA Pool
Seeing your wedding dress ahead of your big day is bound to fill you with excitement. Now, just imagine that in addition to your friends, family, and soon-to-be spouse, millions of other onlookers will also be seeing you in your gown. Some serious nerves are to be expected! But, when Meghan Markle was met with that exact scenario the day before her royal wedding to Prince Harry, the newly minted duchess proved to be incredibly cool, calm, and collected. Luckily, the moment Markle saw her Givenchy wedding dress was captured on camera for an upcoming docuseries about Queen Elizabeth II, Queen of the World, and can be seen in a brand-new teaser trailer for the doc released Tuesday by ITV.
In the blink-and-you'll-miss-it clip, Meghan, wearing the navy Roland Mouret dress she donned the day before her nuptials, is seen smiling over her gorgeous gown. While carefully examining her delicate veil, which was embroidered with the national flowers of each Commonwealth country, the duchess can be heard saying, "Fifty-three countries, oh my goodness! It will keep us busy."
Indeed it will: In just a few weeks, she and Prince Harry will set out on their first royal tour of the Commonwealth, traveling to Australia, Fiji, the Kingdom of Tonga, and New Zealand for about two weeks in October.
Meghan's participation in the two-part docuseries will also mark her first televised interview since her wedding. Per ITV, in the doc, Meghan opens up about "her wedding dress and her early interactions with the Commonwealth, which means so much to her grandmother-in-law." Besides paying homage to all 53 Commonwealth nations in her wedding ensemble and embarking on royal visits to several of those countries, Meghan will also continue Queen Elizabeth's work with the Commonwealth as she accompanies Harry in his own duties as a Commonwealth Youth Ambassador.
Queen of the World, featuring Meghan's interview and—fingers crossed—a few more special moments between her and her wedding dress, will air in the U.K. on ITV on September 25, and in the U.S. on HBO on October 1.
Related: Meghan Markle Was Not Photographed Picking Up After Her Dog, a Kensington Palace Rep Confirms