Meghan Markle Was Not Photographed Picking Up After Her Dog, a Kensington Palace Rep Confirms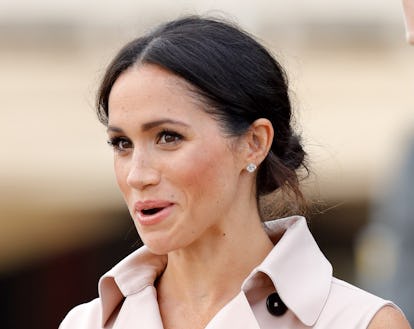 Max Mumby/Indigo/Getty Images
Meghan Markle's transition from a normal person—albeit it a TV actress and humanitarian—into a royal has been seemingly effortless. Perhaps that's why when a recent photo made the rounds on Twitter, the public was quick to assume that it was of the Duchess of Sussex walking her dog on palace grounds while it did its business. Not long after, though, a rep for Kensington Palace anonymously denied that it was Markle.
Here's how the mystery of Meghan Markle and dog poop began: Upon walking by Kensington Palace, journalist Lisa Petrillo snapped a picture of what she believed to be Markle walking her dog. "So incredibly enough, walking by @kensingtonroyal we spotted this beautiful, woman with a familiar air outside the entrance to the private residence where Harry & Meghan live," she wrote on Twitter, where she shared the photo. "MEGHAN!? her dog was doing his business. She couldn't have been sweeter. #princessespickuppooptoo"
Despite the fact that the woman's face is too blurred to make out, people immediately assumed that the dog pictured belonged to Markle. She famously brought a rescue beagle, Guy, to her marriage with Prince Harry (and the two have since added a Labrador to their family). Anyone who's studied photos of Guy, though, is well aware that is coloring isn't consistent with the dog in the photo. Guy has brown spots on his back, whereas this dog in question has a white back.
But what about the woman? Could it be Markle regardless? After the photo began making the rounds, TMZ reached out to a Palace source to find out whether or not it was her. "A source at the Palace tells us the photo posted by the reporter is not Meghan and it's not her dog either," TMZ later reported. "The mess is someone else's sh-t."
While the statement isn't an official one, it is the second rumor the Palace has denied this month. Last week, they called a recent report that suggested Prince Charles' relationship with his sons Prince William and Prince Harry are strained "complete fiction." Even though the same is true of Meghan Markle taking a dog out to do its thing, it's way more fun to believe in a world where even princesses have to pick up after their dogs.