Meghan Markle Was Either in Toronto or at George Clooney's Italian Home or Maybe Just in England
Where in the world is Meghan right now?
---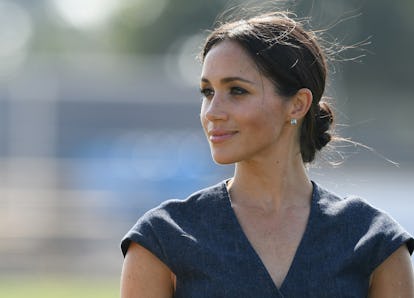 Anwar Hussein/WireImage
The world loves Meghan Markle, but there is only one Meghan Markle to go around, and, as of late, she hasn't been going around much. Aside from attending the wedding of an old chum of Prince Harry's, the Duchess of Sussex has kept a pretty low profile all month. While there have been some reports that staying out of the public eye may be a strategic reaction to the drama and paid-interview nonsense her father continues to spew, it also happens to be August. There's just not a lot a going on. Indeed, the entire British monarchy has been keeping pretty quiet this month, which isn't a surprise. Queen Elizabeth II herself traditionally takes most of the entire month off to spend time at Balmoral, the Crown's Scottish estate.
So, Markle has likely been taking time to relax as well after her whirlwind year, but, as it turns out, the Markle-obsessed press is still hot on her trail. They're just not sure exactly where she is.
Rumors of a solo trip back to North America have been percolating for some time, so it didn't seem that surprising when the British website Royal Central "exclusively" reported that Markle was flying back to Toronto on a commercial aircraft this weekend sans her new husband (Markle lived in Toronto while she was still on Suits and has close friends there). Several other outlets ran the rumor, but then several other royal reporters for better-known outlets claimed that not only was Markle not in Canada, she has no plans to go there anytime soon.
So much for all of that then. But if not in Canada, where is the duchess?
Well, Us Weekly has come along to report that Markle not only spent the weekend with Harry but that the two were actually relaxing in Lake Como, Italy, along with George and Amal Clooney, of all people.
"The Clooneys had personally invited Meghan and Harry to their home at the beginning of the summer with an open invitation," reports their source. "George and Amal were so happy to host Meghan and Harry. Harry and George have a special bond and friendship."
The report continues that the royal couple landed in Italy last Thursday and then spent three days with the International Human Rights lawyer and her show-business husband.
This is not completely unbelievable. The Clooneys did, after all, make the tightly controlled guest list to the royal wedding last May. One would only assume that there is some sort of actual friendship there. Aside from Harry and George's "special bond and friendship," there's also reports that Amal has helped Markle ease into life in the British spotlight.
English royals vacationing with Hollywood celebs and other VIPs is not actually unheard of. Princess Beatrice of York jetted off to Jordan this spring with a celebrity contingent that included Karlie Kloss, Elle Goulding, and Misha Nonoo.
Of course, at the rate this is going, it could turn out that Markle just spent the weekend at home cleaning out her closet or something.