Meghan Markle Celebrated Her Birthday by Going to Someone Else's Wedding
It's the second wedding Harry and Meghan have attended since their own, and the Duchess of Sussex's first birthday as a royal.
---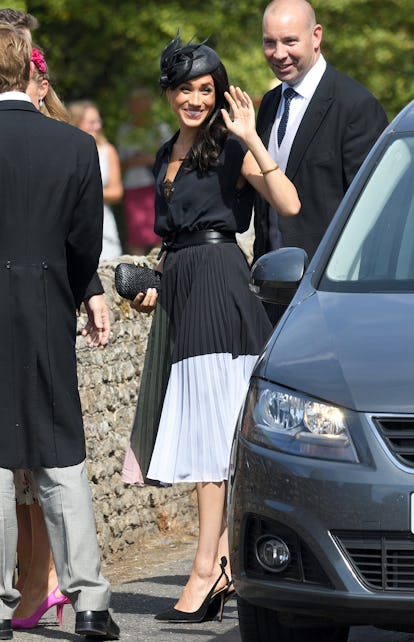 Karwai Tang/Getty Images
Today, Saturday, August 4, is the birthday of Meghan Markle, Duchess of Sussex. And, as had been rumored for approximately a week, she spent it in the company of Prince Harry, attending a wedding. She recently had one of those of her own! Must be refreshing to be on the other side of it for once.
The wedding in question was that of Prince Harry's Ludgrove pal Charlie van Straubenzee, who married Daisy Jenks in a ceremony at the Saint Mary the Virgin church in Frensham, just outside London. Contrary to early reports, Harry did not serve as best man in the wedding party (don't believe everything you read online), but he did act as an usher for the event. Prince William and Kate Middleton were not in attendance, but the van Straubenzee clan, according to People, is quite close with both royal brothers—Harry went to school with Charlie's late brother, Henry; and his other brother, Thomas, is the godfather of William's daughter, Charlotte.
On Friday, a report began to circulate that Harry was concerned about the "hysteria" surrounding Markle—so, in the spirit of micro-updates on her various activities and wardrobe choices fueling said hysteria, we feel it is important to point out that this is the second wedding Markle has attended since her own back in May, while it's her first birthday as a royal. (The first wedding she attended after her own was that of Celia McCorquodale, niece of the late Princess Diana, Harry's mother.)
For the event—for her birthday—Markle wore a dress (by Club Monaco) made up of a color-blocked pleated skirt with a black button-down blouse, slingback heels, and a black fascinator with an elaborate bow on its right side. It was just the right mix of "this is my day" with "I don't want to upstage the wedding party"—a true balancing act, and one for which she deserves recognition.