Meghan Markle Dares Not to Wear Sleeves at the Queen's Birthday Celebration
Fresh from her honeymoon, the newest royal broke protocol with an off-the-shoulder Carolina Herrera design.
---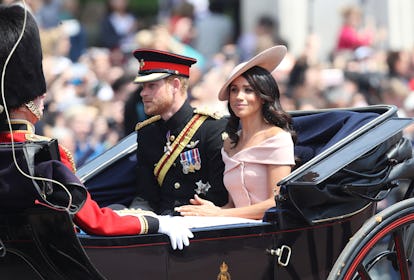 Chris Jackson/Getty Images
Each June, the British army celebrates the birthday of the reigning monarch (which has been Queen Elizabeth II for all of recorded time) in a ceremony called Trooping the Colour. (Just roll that phrase around for a second.) But the real event this year wasn't the military exercises that take place outside Buckingham Palace—instead, it was the Trooping the Colour debut of one Meghan, Duchess of Sussex, just shy of a month after her wedding to Prince Harry in May.
"Meghan Markle may be a royal now, but she's still taking risks!" proclaimed People on Saturday, adding her latest breach with tradition to a long list of minute deviations from already informal royal codes. Over the past year, Markle has been breathlessly observed in numerous casual buns with carefree flyaway bits; she once gave a young girl an autograph; and she even dared not to wear pantyhose to a photo-call last year. This time, her trespass was a sartorial one: In a Carolina Herrera dress, an off-the-shoulder silhouette in blush pink with buttons up one side of the bodice, she strayed from the unspoken tradition that royal women shall wear sleeves to the event. For the past seven years, Kate Middleton—Catherine, Duchess of Cambridge—has worn dresses with sleeves that reach past the elbow, again according to People, and ditto Princess Diana, who began attending the ceremony even before marrying into the royal family, wearing a custom floral Bill Pashley suit for her first appearance in 1981.
This year, Kate again opted for something a bit more demure, a pale blue Alexander McQueen dress with a square neckline, slightly poufed shoulders, and three-quarter-length sleeves. Both sisters-in-law wore dramatic, saucer-shaped fascinators—Meghan's, by milliner Philip Treacy; Kate's, by Juliette Botterill—in colors coordinating with their dresses.
But hey, you can get away with a lot on the fashion front when you have mastered the "perfect" curtsy.