Meghan Markle's Big Move Might Mean Big Changes for Her Wardrobe
Might we soon see the Duchess stepping out in Telfar?
---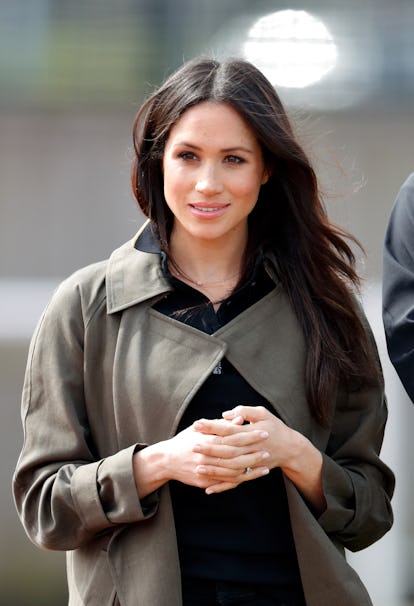 Max Mumby/Indigo/Getty Images
The world is still reeling from Prince Harry and Meghan Markle's surprise, monumental move to "step back" from their roles in the monarchy, and transition to part-time, financially independent royals. Since even the duke and duchess weren't expecting to announce as much this soon—they were still in the early stage of discussion when The Sun got wind of their plans—the details about what's next for the couple are slim, to say the least. At this stage, even they don't know where they're moving to in North America—not to mention whether or not they'll be able to hold onto their recently renovated home of Frogmore Cottage, or have to start paying rent to the Queen.
But the duke and duchess have made one thing exceedingly clear: The public no longer bears any responsibility to provide them with financial support. A vast portion of their new website is devoted to explaining as much, complete with a graphic breaking down the monarchy's cash flow and a lengthy FAQ explaining terms like the Sovereign Grant (which refers to the public funds that cover the royals' offices and lodgings). It no longer covers the Sussexes, though apparently it only covered five percent of their costs in the first place.
The other 95 percent comes from Prince Charles, who's in charge of allocating the funds generated through the centuries-old private estate known as the Duchy of Cornwall. And it's that pool that we have to thank for Meghan's work-related wardrobe—at least to date. It's unclear whether or not Charles will continue to cover them going forward.
Regardless of Charles's decision, rest assured: Changes for Meghan's wardrobe are almost certainly in store. Accepting free clothing is against royal protocol, meaning that since she married Harry, Meghan has had to pay for every item of clothing she's acquired. And for someone whose job is essentially to be photographed in the public eye, that's no small amount; so far, getting dressed in a manner befitting of the monarchy has cost Meghan an estimated £950,000. A significant portion of that went to her two wedding dresses, even though she presumably acquired them before officially becoming a royal. (The estimated £200,000 she spent on her Givenchy gown for the ceremony might sound excessive, but it's actually less than half the price of Kate Middleton's Alexander McQueen wedding dress.)
But with new roles come new rules, and with any luck, following that portion of protocol will soon be a thing of the past. If so, it would be a huge boon for the Sussexes; financial independence isn't exactly conducive to amassing hundreds of thousands of pounds worth of clothes. (After all, they're not abandoning their royal duties entirely.) And it would be an even bigger boon for designers. An endorsement from Meghan can easily make a designer's career, if not temporarily send their sales into overdrive. (See: the phenomenon known as the Meghan Markle Effect.) If free designer clothes end up in her hands, it stands to reason that she would wear at least a portion of them; doing so would certainly be the most economical route, and an easy way to put her stuffy royal days in the past.
Of course, if that's the case, Meghan is about to be bombarded. And with more freedom to use her own wallet, too, the possibilities are endless. Not only is it possible that Meghan will pick up a Telfar tote, or step out in a satin overcoat by Pyer Moss; it's also likely. Now, more than ever, she knows that every aspect of her life will be scrutinized, and fashion is one of the easiest ways to control the message she sends. Stepping out in Telfar or Pyer Moss, for example, would be a co-sign of black excellence, while draping herself in The Row or Stella McCartney could be a nod to environmentalism, like her go-to pair of Veja sneakers.
Speaking of those sneakers, which are now perennially sold out—a show of support from Meghan comes with the added bonus of a significant economic boost. And seeing as one of the only things certain about the Sussexes' future is that they'll be supporting up-and-coming journalists, it stands to reason that Meghan will lean towards up-and-coming designers, too. (And, no doubt, the line of a certain part-time designer best friend: Serena Williams.)
Related: Meghan Markle and Prince Harry Are Basically Quitting the Royal Family