Queen Elizabeth II Insists the Royals Are Still One Big Happy Family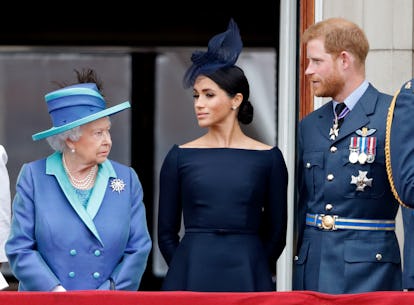 Getty Images
It's not every day that the royals and their subjects discover they have something in common. But last week, Queen Elizabeth II was apparently just as surprised as the rest of the world when Prince Harry and Meghan Markle announced on Instagram their monumental plan to "step back" from their roles in the monarchy and transition to part-time, financially independent royals. Whether or not the reports that Elton John learned about Megxit before Her Majesty are true, the monarch made no attempt to hide her shock and displeasure at the news; within hours, she'd released a two-sentence statement that essentially dismissed the couple's plans as both immature and premature.
It almost goes without saying that the tabloids are having a field day. The same goes for anonymous "sources" clamoring to share their "insider" knowledge, like how Meghan and Harry are maliciously plotting to call out the royals' racism and sexism in a no-holds-barred interview. But occasionally, the tabloids get it right. As predicted, the Queen did indeed convene a family summit at her country home in Sandringham to discuss their fate.
"Today my family had very constructive discussions on the future of my grandson and his family," the Queen said in a statement released shortly after the two-and-a-half hour discussion, whose participants included Prince Harry and Prince William. Apparently, Meghan dialed in, conference call-style, from her maybe future home of Canada. (She returned to the country on Thursday, just days after she and Harry vacationed there for six weeks.)
From the look of her latest, substantially lengthier statement, the Queen has slightly softened on the matter. "My family and I are entirely supportive of Harry and Meghan's desire to create a new life as a young family," she wrote. "Although we would have preferred them to remain full-time working Members of the Royal Family, we respect and understand their wish to live a more independent life as a family while remaining a valued part of my family." (Note the use of "my," not "our.")
Rather than leave it up to speculation for the tabloids, the Queen also outlined the next steps for Megxit. "Harry and Meghan have made clear that they do not want to be reliant on public funds in their new lives," she continued. "It has therefore been agreed that there will be a period of transition in which the Sussexes will spend time in Canada and the UK."
According to the Queen, anyway, further developments are coming sooner than you may think. "These are complex matters for my family to resolve, and there is some more work to be done, but I have asked for final decisions to be reached in the coming days."
In the meantime, each will no doubt enjoy more time in the spotlight—including Prince William, who was apparently so rattled by reports that he'd been "bullying" Harry that the pair came together to release a statement. ("For brothers who care so deeply about the issues surrounding mental health, the use of inflammatory language in this way is offensive and potentially harmful," it read in part.) Meanwhile, the Queen is being watched more closely than ever, making headlines for everything from skipping out on wearing a seatbelt to stepping out wearing a hearing aid.
Of course, none of that holds a candle to what Meghan has had to—and will no doubt continue to—endure. This latest barrage of attacks—which seem to be getting more explicitly racist by the day—is especially keen on denouncing Meghan as a con artist. The idea that she and Harry should be forced to repay the British people for their expenses, like the costs of the renovation of Frogmore Cottage and the royal wedding, is also particularly popular. ("So NOW you know what reparations are?," one Twitter user sagely replied when Fox News host Laura Ingraham expressed as much.)
Meanwhile, on our side of the pond, the rumor mill has also gone into overdrive. On Sunday alone, Page Six posted a total of nine stories about Meghan and Harry (none of which were exactly glowing). And those don't even include the news that dominated outlet after outlet on Saturday—that Meghan has reportedly signed a deal with Disney. Apparently, she only agreed to do a voiceover in exchange for a donation to the charity Elephants Without Borders, which critics have so far seemed all too happy to ignore. (Along with her deal's similarity to Prince Harry's with AppleTV+.)
Related: What Meghan Markle's Big Move Means For Her Wardrobe