Melania Trump's 75-Minute Beauty Routine Warrants Its Own Glam Room in the White House
First families are free to do what they want with many of the private areas of the White House, and Melania Trump may get her own "glam room."
---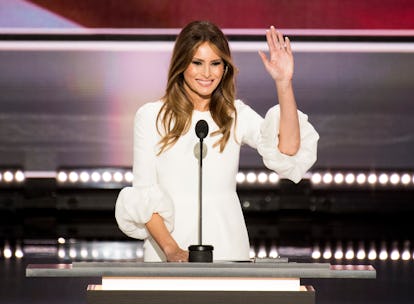 CQ-Roll Call,Inc.
Among the concerns of what will happen once the Trump family moves into the White House, their plans for redecoration is probably low on the list.
The incoming administration has been publicly mum about what exactly it is they plan to do in detail otherwise, just as they have been about most major policy proposals. President-elect Trump has been busier yelling at press outlets than he has actually informing them, after all.
Well, Us Weekly, an outlet that at the moment seems to have more access to Trump-land than CNN, has something of a scoop.
Apparently, Melania Trump will be building her own glam room in the historic home.
"There will absolutely be a room designated for hair, makeup and wardrobe," the future First Lady's makeup artist Nicole Bryl informs *Us*.
"Melania wants a room with the most perfect lighting scenario, which will make our jobs as a creative team that much more efficient, since great lighting can make or break any look," Bryl continues.
Ah, the Trump administration already at work at making our government more efficient with the help of perfect lighting for the First Lady!
For the record, the White House already does have a room dedicated to hair and makeup; it's officially called the Cosmetology Room. Throughout various points in history, the small quarters, just off the family dining room, has been used as storage, a bathroom, President Eisenhower's personal art room and a study for first children. Under President Nixon the room was officially turned into a beauty salon, and has been used as such ever since.
The room isn't the most highly documented in the White House, perhaps unsurprisingly.
Here's a view of it what it looked like during the Ford administration:
The salon was renovated by First Lady Nancy Reagan, but it's unclear what the room looks like today. Nor do we have any updates on the perfection status of its lighting. The Obamas just uploaded a 360-degree tour of the White House on Facebook and even then we didn't get a peak at the pampering parlor.
Of course, Bryl didn't necessarily specify that Trump's "glam room" (as Us terms it) will be in the space of the existing cosmetology room or not. It is a bit too small to store wardrobe.
Other rooms in the executive residence area of the White House have served different purposes over different administrations. The West Room has at times been used as a private gym, a bedroom, and a child's playroom. There's no reason then that it or another room couldn't be turned into a glam room with perfect lighting, enough space for Trump's complete wardrobe and, we assume, gold-plated detailing.
A preservation committee has to approve all major changes to public and historic areas of the White House, but the First Family has more freedom to do what they want with private rooms (and those rooms aren't documented publicly with the same frequency as the other rooms, hence why we're not immediately sure what the cosmetology room looks like at the moment).
Still, it sounds like Melania Trump will definitely need the room. Her makeup routine alone takes 75 minutes to complete.
"[Each makeup session takes] about one hour and 15 minutes of uninterrupted focus. If you want the look to be flawless and have it last [throughout the day], you do have to take a little extra time to make that happen," said Bryl.
Wait, what happened to efficiency?
Though, there may be no rush to complete the glam room immediately. The incoming First Lady will reportedly continue to use Trump Tower as her main residence at least until the end of her son's school year.
Watch W's most popular videos: