The Melania Tapes Offer Rare Candid Insight into a Mysterious First Lady
The first lady was unwittingly outed as a Grinch in a secret recording obtained by CNN.
---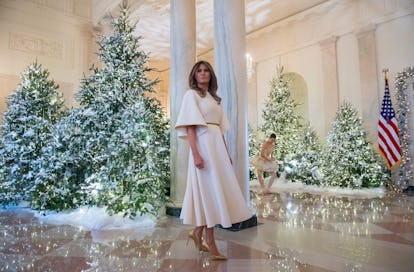 Saul Loeb/AFP via Getty Images
The past 24 hours have brought not one, but two October surprises to light. Shortly before President Donald Trump announced that he and First Lady Melania Trump have tested positive for the coronavirus, CNN made public the most intimate insight into the first lady's inner workings to date. As usual, it came courtesy of a former Trump associate-turned-tell-all-author: Stephanie Winston Wilkoff, the former Vogue staffer and former senior advisor to Melania behind Melania and Me.
In the summer of 2018, when officials began separating migrant children from their families and placing them in detention centers, Melania paid a visit to the U.S.-Mexico border. A week later, she called up her then senior advisor to vent. (The pair has known each other for more than a decade, and became close when running in similar New York City social circles.) Understandably, given that it was only June, Melania wasn't too pleased with having to plan out how to decorate the White House six months from then.
"They say I'm complicit. I'm the same like him, I support him, I don't say enough, I don't do enough," Trump told Wilkoff, who was secretly recording the phone call. "I'm working my ass off on the Christmas stuff, that, you know, who gives a fuck about the Christmas stuff and decorations? But I need to do it, right? Correct?" Wilkoff seemed to agree: "One-hundred percent. You have no choice."
The thing is, plenty do in fact care about "the Christmas stuff." At least, they do since Melania took charge and began approaching it like performance art. Her first makeover, which Vogue described as having "desolate, post-apocalyptic ice chamber vibes," immediately drew comparisons to horror films like Get Out. So did the following year's, along with a new addition: The Handmaid's Tale, owing to its overwhelming use of blood red. The video of Melania wandering her dystopian vision of patriotism spawned meme after meme, which is perhaps why she was notably absent from the next year's.
But to Melania, what seemed like a rare creative outlet was actually just another thing on her plate. "I do [the decorations] and I say that I'm working on Christmas and planning for the Christmas and they said, 'Oh, what about the children that they were separated?' Give me a fucking break," she passionately told Wilkoff. Referring to the separation of migrant children from their families, she continued, "Where they were saying anything when [Barack] Obama did that? I can not go, I was trying get the kid reunited with the mom. I didn't have a chance—needs to go through the process and through the law."
In another phone call, which Wilkoff also recorded, Melania tackled the subject further. "The kids, they say, 'Wow I will have my own bed? I will sleep on the bed? I will have a cabinet for my clothes?' It's so sad to hear it but they didn't have that in their own countries, they sleep on the floor," she said. "They are taken care of nicely there. But you know, yeah, they are not with parents, it's sad. But when they come here alone or with coyotes or illegally, you know, you need to do something."
Melania then not only cast doubt on migrants' mistreatment in the U.S., but also in their home countries. "They go over and they say like, 'Oh, we will be killed by a gang member, we will be, you know, it's so dangerous," Trump said, mimicking what CNN described as a "dramatic voice." "They're not professional but they are teached by other people what to say to come over and to, you know, let them go to stay here. Because they could easily stay in Mexico but they don't want to stay in Mexico because Mexico doesn't take care of them the same as America does."
Wolkoff ventured that Melania was genuinely concerned for the children, but suppressed her maternal instincts to align with the administration. But that positive spin apparently did nothing to appease the first lady's spokesperson. "Secretly taping the First Lady and willfully breaking an NDA to publish a salacious book is a clear attempt at relevance," Stephanie Grisham said in a statement. "The timing of this continues to be suspect—as does this never-ending exercise in self-pity and narcissism." (Melania herself has yet to respond to being outed as a Grinch.)
Perhaps there actually is a downside to her husband's potential reelection. Somehow, it doesn't seem like Jill Biden's presumably wholesome Christmas decorations would have the same spark.
Related: Melania Trump Shovels Dirt in Stilettos, Achieves Peak Melania Trump