The Curious Incidents of Melania Trump's Skincare Line and Ryan Lochte's Endorsement Deals
All the post-Olympics drama you need to know.
---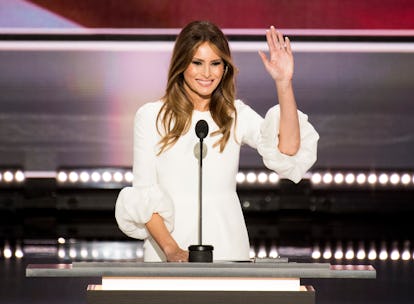 CQ-Roll Call,Inc.
Banks, Tyra Stanford's newest lecturer. Who better to teach at a business school than a one-woman business?
Biles, Simone After winning five medals at the Rio Olympics, the Team USA gymnast just wants to be "normal."
Blampied, Bronte Here are 10 things you need to know about Justin Bieber's new lady.
Hadid, Gigi Creating a carnival with Tommy Hilfiger for New York Fashion Week, Ferris wheel and all. Picturing Hadid as a carnie is giving us life.
James, Lily Downton Abbey actress and new face of My Burberry Black fragrance, thinks the camera doesn't add 10 pounds and wears a different scent for every role she plays.
Kardashians In a bit of hot water over sponsored Instagram posts. That is, the posts need to be labeled as sponsored content. The Kardashians haven't been inclined to do that too frequently.
Lochte, Ryan Apparently it's not over yet for the disgraced Team USA star. Lochte has been dropped by sponsors Speedo and Polo Ralph Lauren. Apparently lying to the cops isn't great for endorsement deals.
Trump, Melania The story behind Melania's mysterious disappearing skincare line.
Turner, Callum Burberry model-turned-actor, part of a new generation of young Brit actors like Jack O'Connell — and a far cry from Tom Hiddleston.
Watch W's most popular videos here: