Like a Rolling Stone, Melanie Hamrick Takes Off
Melanie Hamrick on how to live, eat, workout and navigate life on the fast lane like an American Ballet Theater star. (Hint: It isn't all pirouettes.)
---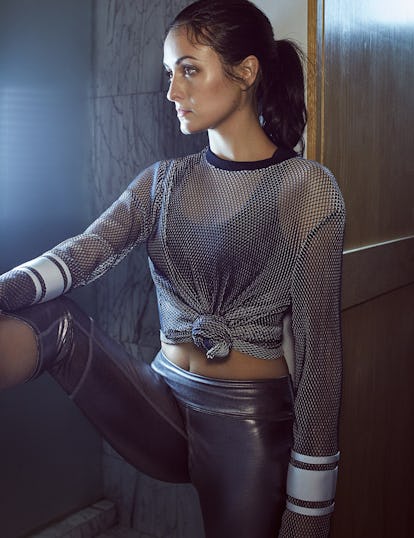 At three years old, ballerina Melanie Hamrick was already a whirling dervish of plies, pirouettes, and relevés. By age eleven, she had left her hometown of Williamsburg, Virginia to attend a specialized boarding school in Washington D.C. and pursue ballet full time. She spent the following six years participating in various showcases and competitions across the country. Her big break, though, came along in 2003 when New York City's American Ballet Theater invited her to take part in its prestigious summer program. She was 17.
Less than a year later, she got a full company contract when she filled in for an injured dancer in a Balanchine ballet. "I had been sheltered in this boarding school for 6 years, dancing morning until night, and suddenly I was in New York City dancing for ABT," Hamrick recalled. "I didn't even have a debit card. I never even bought milk."
Hamrick, 29, has come a long way since then, now training for her eleventh season of Swan Lake, which will open at the Metropolitan Opera on May 9th. She's also settled into the fast life of New York City—for a time there, tabloids linked her to one Mick Jagger, the ageless septuagenarian ringleader of the Rolling Stones, and though there were reports they had broken up, she confirms they're still very much an item. ("I'd rather not comment on my personal life" she said when pressed about news reports and left it at that.) Presumably, she is now able to buy her own milk.
While exercise has always been part of her every day, it wasn't until 2010 that Hamrick decided to take her training beyond the walls of the ballet studio and sought out Brynn Putnam, a former professional ballerina with New York City Ballet, who created something called the Refine Method in 2010 that privileges a constantly changing routine of plyometric and strengthening exercises. Hamrick credits the so-called method, at least partially, for her slim physique. "I went every day one summer and when I got back everyone was like, 'Wow you're legs look really good!'" she said.
When it comes to attaining a 'dancer's body,' Putnam is quick to debunk any myths. "People do ballet-inspired barre workouts and get mad when their bodies don't change," she said. "We focus on training and strengthening by intensifying natural movements your body is designed to do in daily life, activating these muscles in the way they're meant to be used."
Fitness has been an integral part of Hamrick's life for decades (she goes through ten pairs of pointe shoes a week), but diet is something she only started considering a few years ago, when an ankle injury left her in a cast for three and a half months. "When you're young you can get away with not taking care of your body, but I was in my mid-twenties and I realized I needed to watch my diet if I wanted my body to last," admitted Hamrick, who has since committed to a healthier regimen of at least two well-balanced meals a day, incorporating everything from meat and dairy to pasta and quinoa.
Still, Hamrick is refreshingly realistic when it comes to her dietary needs, considering the stigmas associated with the industry. "Our work environment is already intense. If you make your eating intense, it's too much, especially since you're looking at your body all day in the mirrors," she explained of a relaxed regimen that she adapts according to her fluctuating performance and rehearsal schedule.
When she doesn't have time for a proper meal, she opts for a Kind bar, bananas, or nuts which she said can be found in every dancer's locker. During a performance she'll sometimes grab a Starburst or Jolly Rancher from the candy bowls that are kept in the wings for dancers in need of a sugar rush before taking the stage. But she's not without her vices – after a show or a long day of rehearsals she'll head to Rosa Mexicana for margaritas and guacamole, ("avocado is kind of healthy!") or if it's the last show on a Saturday she admits to taking vodka shots in the wings with colleagues before going on.
"At the end of the day my philosophy is everything in moderation," she said.
Watch W's most popular videos here: