Melia Marden's "Manhattan Mediterranean" Fare
On April 2, chef Melia Marden will release her first cookbook Modern Mediterranean.
---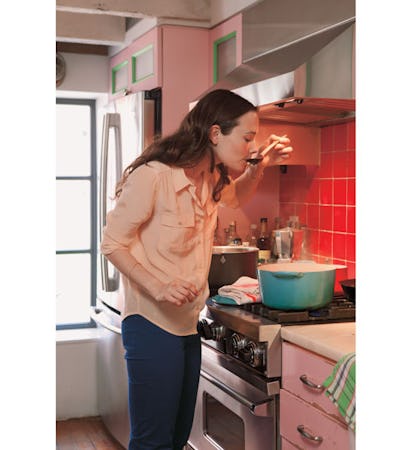 Since it first opened in 2009 in a rickety old townhouse on Bond Street, the Smile has served as the neighborhood haunt for downtown's art and fashion crowd—a distinction that has a much to do with the restaurant's warm, genial vibe, as it does Melia Marden's cooking. Described by the 32 year-old chef as "Manhattan Mediterranean," the fare consists of simple, seasonal comfort food, rooted in the flavors of Morocco and Greece, where the Marden family (her parents are the painters Brice Marden and Helen Marden) has spent nearly every summer. On April 2, Marden will release her first cookbook Modern Mediterranean (Abrams-Stewart, Tabori & Chang), an intimate, easy-to-follow guide for making such mouthwatering recipes as minted snap peas, pomegranate and goat cheese pizza, Moroccan meatballs, fish stew (currently, her favorite dish to cook at home), and pears poached in Greek wine. It also includes old family snapshots, fond food memories, and suggested menus, such as "Spring Dinner," a feast of fava bean crostini, rosemary pork chops, grilled asparagus, and rhubarb crumble that we can't wait to serve up.
Photo: courtesy of the subject