Meryl Streep Says She "Was Really Beaten Up" When She Was "Young and Pretty"
The actress talks harassment in the industry—including that time that Dustin Hoffman slapped her.
---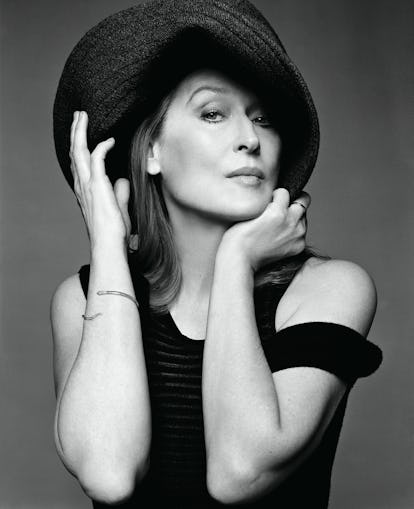 On Wednesday, the New York Times published an interview with Meryl Streep and Tom Hanks, who are both currently promoting their new movie The Post, which is about the publication of the Pentagon Papers. Streep's voice, however, dominated the story—in part because the film's portrayal of workplace sexism has only gotten more relevant since she pointed it out in November.
Streep is, after all, more familiar than Hanks with the discrimination that her character, Katharine Graham, the Washington Post's extremely persistent publisher, faced: The actress recalled how, for example, it took until graduate school for her and many other women "to be allowed to get a credit card without a male family member signing for me." Still, both costars agreed Graham simply would have been fired and, in the words of Hanks, "called a b—-," if she she had been lower down on her family's company's food chain when she she dared to be so persistent at the paper, to the point of defying President Nixon.
Naturally, the conversation moved into the subject of sexual harassment and the post-Harvey Weinstein era—topics that the Times pointed out people were eagerly waiting for Streep to speak out about, much to her her surprise at the time: "Somebody told me that on Morning Joe they were screaming that I [hadn't] responded yet. I don't have a Twitter thing or—handle, whatever. And I don't have Facebook." Once she did realize she'd been called upon to offer her thoughts on the actions of a close colleague whom she'd called "a god" when accepting an Academy Award for a film they worked on together, however, Streep said she "really had to think. Because it really underlined my own sense of cluelessness, and also how evil, deeply evil, and duplicitous, a person he was, yet such a champion of really great work."
"People are so inscrutable on a certain level. And it's a shock," she continued. "Some of my favorite people have been brought down by this, and he's not one of them." And while she said she'd rather people focus not on her silence, but that of Melania and Ivanka Trump, whom she wants to "speak out now," Streep did end up making a statement about Weinstein, and how the "disgraceful news … appalled those of us whose work [Weinstein] championed, and those whose good and worthy causes he supported."
Importantly, Streep's statement also pointed out how Weinstein's "behavior is inexcusable, but the abuse of power familiar"—something that's become clearer than ever in recent months, with allegation after allegation emerging about industry names as big as Charlie Rose, Kevin Spacey, and Ben Affleck. While she has said she was never personally victimized by Weinstein, it's clear that Streep, just like so many other women, has nonetheless dealt with her fair share of predators: "I have experienced things, mostly when I was young and pretty. Nobody comes on to me [now]," Streep said, declining to get into specifics but adding that she "was really beaten up."
Still, Streep is surprisingly ready to leave those days are in the past: "I don't want to ruin somebody's mature life. I just don't. I do think if the world is going to go on, we have to find out a way to work together, and know that it's better for men if they respect us deeply as equals," she said. Part of her decision not to call out anyone seems to be because she believes their behavior has changed: "Back in the day, when everybody was doing cocaine, there was a lot of [expletive] behavior that was inexcusable. But now that people are older, and more sober, there has to be forgiveness, and that's the way I feel about it."
When pushed, however, Streep did concede to discuss what happened decades ago between her and Dustin Hoffman, who's been in the news lately for disturbing allegations of sexual harassment, which date back to around four decades ago, right around when Streep was costarring with him in the 1979 film Kramer vs. Kramer—a film which has long been surrounded by rumors that Hoffman actually punched Streep on-set during a fight scene, and took it upon himself to get her appropriately riled up for her performance by teasing her about her boyfriend's lung cancer diagnosis and later death.
Streep confirmed to the Times that Hoffman did indeed slap her, but made sure to mention that it was "when [they] were making" the movie. "This is tricky because when you're an actor, you're in a scene, you have to feel free. I'm sure that I have inadvertently hurt people in physical scenes. But there's a certain amount of forgiveness in that," she added—going on to call out his actions nonetheless. "But this was my first movie, and it was my first take in my first movie, and he just slapped me. And you see it in the movie. It was overstepping."
Not even that memory, though, could deter Streep's apparently quite persistent optimism: "But I think those things are being corrected in this moment. And they're not politically corrected; they're fixed," she continued, two days after she and 300 other high-profile women like Reese Witherspoon started off the new year by publishing an open letter announcing and pledging their action to a new anti-harassment initiative. "They will be fixed, because people won't accept it anymore. So that's a good thing."
Related: Selena Gomez, Reese Witherspoon, and Emma Stone Among 300 Women In Hollywood to Sign Anti-Harassment Action Plan