Met Gala 2016: Getting Ready with Demi Lovato and Jeremy Scott
A behind the scenes visit with the singer as she prepared for the biggest social event of the year with her date, designer Jeremy Scott.
---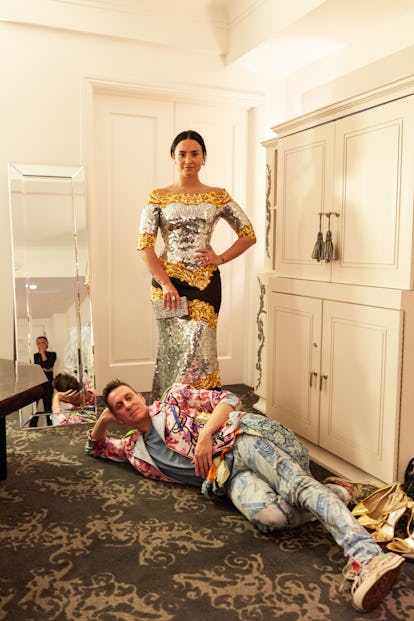 It was a dreary Sunday night in Manhattan, the day before the annual Metropolitan Museum of Art's annual Costume Institute gala, and the Upper East Side was unusually bustling. Paparazzi were already running back and forth between The Carlyle and The Surrey trying to snap some of the stars as they arrived at the two hotels hat historically serve as base camps for the Met Gala's famous and not-so-famous-but-paying attendees.
Around 7:15 p.m., fashion designer Jeremy Scott entered the lobby of The Surrey with his small entourage and bumped into fashion critic Suzy Menkes. After a quick chat, they said their goodbyes—Scott had to get to the 11th floor for a final fitting with his date for the night, Demi Lovato.
"No one knows I am going tomorrow, right?" Lovato, 23, asked her team as she stood in the off the shoulder, sequined gown and looked at herself in the mirror while Scott inspected her. Her short, dark hair was slicked back in a tight, low ponytail and her makeup look was fresh and glowing. "And they don't know that Jeremy and I are going together?" "No one knows yet," said Scott, 40.
Until today, that is.
For Lovato's first time at the gala, she left everything up to Scott, who's something of an expert when it comes to dressing divas for this most important of social events; Nicki Minaj is his other date tonight and last year he brought Madonna and Katy Perry as his dates.
"This is his vision and I just wanted to let him do his thing," said Lovato, while her and Scott's team members stood in the corner of the room with their cell phones in hand, whispering quietly about various logistics for gala.
"You are sure going to stun them when you hit the carpet," he assured her as he adjusted the shoulder of the glittering black, gold, and silver dress he'd created.
There was some discussion about which Edie Parker would go best with it and they finally settled on a two-tone gold and silver sparkle box clutch, which looked particularly fetching against the 12.5-carat diamond Norman Silverman ring on Lovato's right hand. To add to the megawattage, she'll also be sporting Norman Silverman diamond studs, 6 carats each, and towering, silver Giuseppe Zanotti heels.
Scott – who came to his first Met Gala back in 1999 when he was 22 ("when Demi probably wasn't even born yet") and has been attending the bash on and off ever since – first met Lovato at his MTV VMA after-party earlier this year and the conversation about dressing for the event evolved from there. (He was already a big fan of her work— "Neon Lights" and "Cool For The Summer" are two favorites.)
Lovato shared a few sample dress cuts that made her feel comfortable, plus some of her favorite looks from his last Moschino collection, and then Scott took it from there.
They eventually narrowed it down to four or five options and were both leaning towards a very short, gold number with charred, burned cutouts (like several of the evening dresses from his fall 2016 collection).
At the last minute, though, they changed direction and went with the gown she wound up wearing today (which also incorporated the Bonfire of Vanities idea he entertained for the fall collection).
"It's very Versailles Hall of Mirrors," said Scott, as he readjusted a pin in the back that cinched her waist a bit more. "She is really giving me a whole new take on Marie Antoinette."
Scott said he didn't think about this year's exhibition theme, "Manus x Machina: Fashion in the Age of Technology." "I really don't participate with that whole theme thing," he said. "The people who curate this exhibition work on it all year and I feel like it's kind of rude for me to be so presumptuous to be like, 'Well I am going to come and give you the Chinese dress that is going to outdo yours. Unless I was already doing something with light-up things going on in it, it kind of seems insincere."
He paused.
"A few years back it was Prada, so what was I supposed to do? Like this is the most Prada look I can design? No. So we are doing our own glorious, glamorous thing," he said.
Lovato, who leans towards dark, short and fitted numbers when it comes to her red carpet wardrobe, said, "I ended up liking this one the best, I think it's because it's the least expected of me out of all the dresses."
The unexpected is something the multi-hyphenate, singer-songwriter-actress and now model, seems to be embracing lately.
"I just signed to Wilhelmina, I thought it was totally cool and unexpected," the former Disney star said of the modeling contract she landed in October, around the same time as the release of fifth and most personal album, Confident. "I spent so many years of my life thinking of models as looking a certain way and when I finally just embraced myself and my body, that's when I got a modeling contract, which is really funny. I definitely want to learn more about the fashion world and see more and experience more about it. That's part of why tomorrow is so exciting for me because I have only seen pictures of the carpet and now I get to go inside and see what it's like. "
The other reason she's excited? It's the prom she never really had. "It's fashion prom!" chirped Scott.
Lovato, who was homeschooled, lit up as she and Scott talked about their final plans for Monday night's festivities – there was the fitting, the gala, the party, the after party, the wardrobe changes…
"I didn't really get to do a lot of that high school stuff and now I'm finally going. I just happen to be going with Jeremy Scott to my prom," she said, cracking a big, giddy smile.