Drama at the Met Gala: A Brief History
Beyoncé, Jay-Z, and Solange's elevator fight isn't the only incident that's gone down at the Met.
---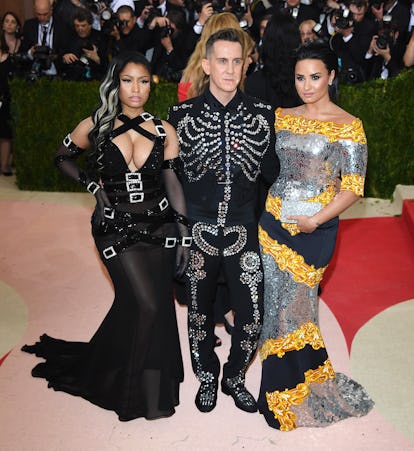 Venturelli/FilmMagic/Getty Images
It's easy to forget that the Met Gala is ostensibly about a museum exhibition. From its very first edition, in 1973, the Metropolitan Museum of Art's annual extravaganza has only been about three things: the celebrities, the red carpet, and the drama. And with this year's edition postponed indefinitely, it's the drama we'll most sorely miss. Distract yourself from the paucity this first Monday in May with a look back at some of its past scandals, here.
The Elevator Incident
"Of course sometimes shit goes down when it's a billion dollars on an elevator." We may never know exactly what these lyrics from Beyoncé's "Flawless Remix" mean, but there are few souls on this earth unfamiliar with the reference. Following the 2014 Met Gala after party, TMZ released a video clip of Solange, Bey, and Jay Z in an elevator with the "Single Ladies" artist's security guard, Julius. In the security footage, Solange gets in Jay's face, pushes, punches, and kicks him, while Beyoncé stands aside, motionless. It was the first major crack in the facade of Knowles-Carter family perfection, crafted largely by Beyoncé herself, and since the video had no sound, rumors went wild over what the scrap could have possibly been about. Some said it was due to Jay's alleged extramarital activities with Rachel Roy, others posited that Jay wanted to go to Rihanna's after party.
In an attempt to prove things were smoothed over (albeit, in her own cryptic way), Yoncé posted photographs of Solange and Rihanna on her Instagram two days after the event occurred. Apart from a press release that basically said nothing, the family members never commented on what actually happened in that elevator on the fateful night of the Met Gala. Well, nothing apart from the lyrics above, from a song that came out three months after the incident. Then, there was Jay's statement on 4:44 in 2017: "You egged Solange on/Knowin' all along, all you had to say, you was wrong."
Lemonade-era Bey: Ring-less and solo
If the elevator video was the crack in the facade, the Lemonade album was a complete break in the Beyoncé-Jay Z love story monolith. Throughout the entire "On the Run" tour, Jay and Bey managed to play out a romance on stage, despite tabloid reports of problems in their marriage. The Bey Hive insisted the media was rabble-rousing, and left it at that. And then Lemonade came out. Beyoncé's revenge album told all: Jay cheated, she hadn't been feeling the same since the baby was confirmed, she ended up making amends with Sean Carter, and they stayed together. But to stir the pot, Beyoncé showed up to the Met Gala in 2016, just eight days after the release of Lemonade, with no wedding band on her finger.
To be clear: she wore a mess of other Lorraine Schwartz baubles, including one on her ring finger. But driving the nail deeper into the proverbial coffin, Bey went stag to the event, leaving Jay out of the equation. She ascended the stairs to The Met solo, wearing what has become one of the most memorable looks to date: a flesh-colored latex Givenchy gown.
Demi Lovato vs. "complete bitch"
In 2016, Jeremy Scott dressed Demi Lovato in custom Moschino. He also dressed Nicki Minaj. Naturally, at a certain point in the evening, the trio stopped for a photo op, which Minaj later Instagrammed. Mysteriously, she only tagged Scott.
Meanwhile, Lovato Instagrammed a photo of Minaj giving her side-eye, with the caption "This picture pretty much summed up my first and probably last met 😂😂😂 #cool #sof*ckingawkward #notforme #sweatpants #forensicfiles #whatsgood." She also clarified that it was in jest, concluding that "some of y'all need to learn how to take a joke."
But the night that Lovato described two years later was no laughing matter. "I had a terrible experience," she told Billboard in 2018. "This one celebrity was a complete bitch and was miserable to be around. It was very cliquey. I remember being so uncomfortable that I wanted to drink." Naturally, speculation was rife that the "complete bitch" in question was Minaj.
Around 10 p.m., Lovato realized she needed a change of scenery. "I changed my clothes, but I still had my diamonds on—millions of dollars of diamonds on in an AA meeting," she said. "And I related more to the homeless people in that meeting who struggled with the same struggles that I deal with than the people at the Met Gala—fake and sucking the fashion industry's dick."
Gwyneth Paltrow's diss
There's perhaps only one person on Earth who could get away with calling the Met Gala "so un-fun" and still manage to get an invite. "I'm never going again," Gwyneth Paltrow told USA Today in 2013. "It was boiling. It was too crowded. I did not enjoy it at all." And yet she still resurfaced on its red carpet in 2019.
FKA Phallus
When Robert Pattinson and FKA Twigs first arrived to the Met Gala in 2015, the news was that it marked the couple's red carpet debut. But upon closer inspection, the tabloids discovered something even more headline-worthy: FKA Twigs's Christopher Kane dress featured a relatively discrete drawing of—gasp!—a penis.
Kim Kardashian, "couch"
Back in the days when Kim Kardashian was a lowly plus-one, she tagged along to the 2013 Met Gala with her now husband, Kanye West. The theme was "Punk: Chaos to Couture," but Kardashian just wanted to blend in. Then, in the beginning stages of her pivot to high fashion—and the not-so-beginning stages of her pregnancy with North West—Kardashian enlisted Riccardo Tisci to dress her in custom Givenchy.
The plan backfired spectacularly. No one stood out quite like Kardashian, whose floral gown was immediately christened "the couch dress." Years after the public mockery, Kardashian revealed that when she got home that night, she burst into tears.
Obligatory Lena Dunham controversy
At the time, Lena Dunham's evening at the 2016 Met Gala was perfectly drama-free. Five months later, that was no longer the case. That September, Dunham reflected on the evening in a Lenny Letter with Jenna Lyons and in an interview with Amy Schumer. A warning: it's impossible to read quotes from the latter without cringing.
"I was sitting next to Odell Beckham Jr., and it was so amazing because it was like, he looked at me and he determined I was not the shape of a woman by his standards. He was like, 'That's a marshmallow. That's a child. That's a dog.' It wasn't mean—he just seemed confused. The vibe was very much like, 'Do I want to f—it? Is it wearing a … yep, it's wearing a tuxedo. I'm going to go back to my cell phone.' It was like we were forced to be together, and he literally was scrolling Instagram rather than have to look at a woman in a bow tie. I was like, 'This should be called the Metropolitan Museum of Getting Rejected by Athletes.'"
As ever with Dunham, the backlash was swift. She eventually clarified her account on Twitter, writing that she thought it was clear her story was instead about her own insecurities amid a sea of supermodels and athletes.
John and Yoko, Bonnie and Clyde, Sonny and Cher—any and all iconic celebrity couples in history thus far are moot points. For after the 2018 Met Gala, there was Grimes, and there was Elon Musk; and suddenly, there was no one else who even came close to their romantic category. This is the love story of an ultra futuristic, cyber twee musician and artist, and a carmaker. The "Heavenly Bodies: Fashion & The Catholic Imagination"-themed Met Gala in 2018 held plenty of excitement—2Chainz red carpet proposal! Madonna performance! Pregnant Cardi B slay!—but, hands down, the revelation that Elon Musk and Grimes were dating was the most shocking. This was their official relationship debut, their first outing with one another. Today, they're still together, and Grimes reportedly just gave birth to their baby this past weekend.
Offset's missing chain
A month before Ocean's 8 hit theaters in 2018, Offset unwittingly recreated one of its key plot points at the Met Gala in 2018. The morning after the Met Gala, he realized the $150,000 chain he wore on the red carpet had gone missing. Like Anne Hathaway's character, Offset eventually recovered it. It's unclear how, but the cops considered the case closed when Offset wore it in a video later posted to Instagram.
Smoke and mirrors
We cannot imagine sneaking a few cigarettes in the bathroom is the worst thing that has occurred at the Met Gala. But every year, it seems to happen—and every year, the donors in particular get up in arms about it. To be fair, they're just looking out for the works of art (in 2017, one unnamed donor told the New York Post, "I was so insulted to see all these 'celebrities' smoking and taking selfies in the bathroom. Mostly, it's disrespectful to the art collection, which needs to be kept 100% smoke-free. I would honestly like to see these people fined by the city.")
But how can you expect a pack of folks whose lives are lived above the law to follow any sort of rules? The floodgates opened in particular three years ago, when selfies from Luka Sabbat showed Cole Sprouse in the background smoking a cig, and pictures of Bella Hadid crouched on the floor blowing smoke, along with Marc Jacobs in a stall with Courtney Love hitting a stogie, surfaced.
These rebels were guilty of breaking not just one, but two rules that night; selfies and phone pictures were strictly prohibited. The issue became so great that even the health department weighed in. Dr. Mary Bassett, New York City's health commissioner, wrote that the government body was "dismayed to read reports that some celebrities chose smoking as their fashion accessory and flagrantly violated New York City's smoking laws." Dakota Johnson, Paris Jackson, and other perpetrators were not reported to be punished for their crimes.
Related: Marc Jacobs, Haim, and More Remember Their Favorite Met Gala Looks of All Time