Alyssa Milano Starts #MeToo Hashtag to Show How Widespread Sexual Assault Is
The tag has already been used more than 200,000 times.
---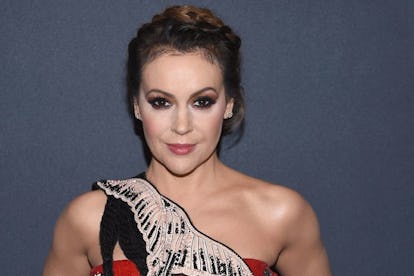 Composite. Dimitrios Kambouris/Getty Images
Since the first reports of Harvey Weinstein's alleged history of sexual assault and harassment came out more than a week ago, countless people have come forward to share their own experiences with sexual violence from people in positions of power. This weekend, to further underscore just how widespread sexual violence is in Hollywood and beyond, Alyssa Milano started a hashtag that has since gone viral.
On Sunday, Alyssa, who appeared on Charmed alongside Weinstein accuser Rose McGowan, shared her idea for the new movement on Twitter. "If you've been sexually harassed or assaulted write 'me too' as a reply to this tweet," she wrote. "Suggested by a friend: 'If all the women who have been sexually harassed or assaulted wrote 'Me too.' as a status, we might give people a sense of the magnitude of the problem.'" In the less than 24 hours since she posted the message, Alyssa's tweet has since been retweeted more than 14,000 times and garnered more than 29,000 likes.
While more than 39,000 people have replied to the original tweet, countless more have simply tweeted "#MeToo" themselves, with or without further details about their experiences. According to Twitter, the hashtag has already been used more than 200,000 times. Among these are celebrities like Lady Gaga, Debra Messing, Evan Rachel Wood, and Hamilton star Javier Muñoz.
As brave as all of these people are for sharing their stories, however, it's important to note that survivors of sexual assault and harassment should never feel pressure to name their trauma. Several Twitter users shared this sentiment using the #MeToo tag. "Reminder that if a woman didn't post #MeToo, it doesn't mean she wasn't sexually assaulted or harassed. Survivors don't owe you their story," one wrote. "We shouldn't have to out ourselves as survivors in order for people to grasp the magnitude of how systemic assault & harassment are. #MeToo," another added.
This isn't the first Twitter-based movement to follow the news of the Weinstein scandal. Immediately after the initial reports broke, stories flooded into feeds about powerful men who had preyed on them in the workplace and elsewhere. And last Friday, many women boycotted the social media platform in response to Rose McGowan's temporary suspension from the service, which many saw as yet another example of the systemic silencing of women.
Related: Blake Lively Recounts Her Own Chilling Story of Sexual Harassment
See What's Trending in W Video: