Blake Lively Recounts Her Own Chilling Story of Sexual Harassment
"I was sleeping one night on location and I woke up and he was filming me," the actress recalls.
---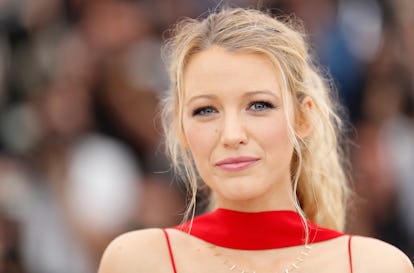 Pascal Le Segretain/Getty Images
As many women as have come forward with further allegations of Harvey Weinstein's sexual misconduct, many more have taken the opportunity to share their own experiences with sexual harassment and misogyny in Hollywood more broadly. Among the most recent is Blake Lively, who told the Los Angeles Times she had been harassed by a makeup artist she worked with on a project.
"He was saying things inappropriately, insisting on putting my lipstick on with his finger," she told the Times, recounting the chilling incident. "I was sleeping one night on location and I woke up and he was filming me. I was clothed, but it was a very voyeuristic, terrifying thing to do."
After three months trying to get her producers to take action, Lively thought, when they asked for a meeting at her trailer, something would finally change. But instead, they told her, "Your dog left a poop behind the toilet in your dressing room and our janitor had to pick it up. And this is very serious and we can't have this happen again." Lively finally resorted to bringing in her lawyer, and the makeup artist was eventually dismissed.
And yet, she added, "Our unit production manager wrote him a letter of recommendation because nobody wanted there to be bad blood." Because, you know, priorities.
Lively, who starred in the Weinstein-produced Elvis and Anabelle in 2007, also discussed the sexual harassment and assault accusations against the film mogul in an interview with the Hollywood Reporter while promoting her new film, All I See Is You, with Jason Clarke. "That was never my experience with Harvey in any way whatsoever," she said. "I never heard any stories like this—I never heard anything specific—but it's devastating to hear."
"The number one thing that can happen is that people who share their stories, people have to listen to them and trust them, and people have to take it seriously," she told the Hollywood Reporter. "It's important to also say that this exists everywhere so remember to look everywhere. This isn't a single incident. This cannot happen, this should not happen, and it happens in every single industry."
"It's important that women are furious right now," she said. "It's important that there is an uprising."
Margot Robbie is here to show you what vegemite sounds like: