Mia Wasikowska: O Sole Mia
Aussie actress Mia Wasikowska shines in Tim Burton's Alice in Wonderland.
---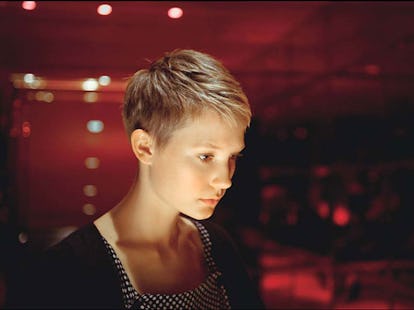 Growing up, Mia Wasikowska knew the story of Alice in Wonderland. But unlike most children, she was best acquainted with the version by experimental Czech director Jan Svankmajer, Alice. The macabre 1988 movie, which costars a young girl and a taxidermied rabbit, made a deep impression on Wasikowska and her siblings when their mother popped it into the VCR. "We used to be kind of disturbed by it," recalls the 20-year-old Australian actress, best known Stateside for her role on HBO's In Treatment. "But we could never walk away, because it was so fascinating and odd."
Those same words could also describe the films of director Tim Burton, whose upcoming version of Lewis Carroll's eternally surreal tale stars Wasikowska in the title role. "There is a lot of pressure," acknowledges the actress during a brief visit to Beverly Hills from the Portland, Oregon, set of Gus Van Sant's as-yet-unnamed next film, for which she cropped her long hair to play a death-obsessed teenager in love. "Alice is such a dear character to so many people that you have a responsibility to deliver something that people know but that's also unique and different. It's Tim's Alice. It's also my Alice."
As if the challenge of inhabiting one of the world's most famous female characters opposite costars Johnny Depp and Helena Bonham Carter weren't enough for the relatively inexperienced actress, Burton's effects-heavy vision for the film required much of the 14-week shoot in England and Los Angeles to take place in front of an other­worldly green-screen set. "That's a really weird way to work," says Wasikowska, who often found herself interacting with inanimate objects standing in for her costars. "For a lot of scenes, there would be no one there and I'd be acting with tennis balls and sticky tape."
"Alice is always portrayed as a precocious girl wandering through weird environments," says Burton. "Our goal was to give her more of a grounded quality. That's what Mia brought to it. Meeting her, it's clear how intelligent she is and that she has a rich internal quality."
Wasikowska had a somewhat bohemian upbringing in Canberra. Her Polish mother and her Australian father, both artists, live together but have never married—Wasikowska uses her mother's surname—and from a young age she traveled with her parents on their gallery rounds in Europe. Wasikowska's first love was ballet, and she studied dance seriously, with the dream of going professional. But by age 14 she had burned out. "That was, in a way, my first career," says Wasikowska, who still has a ballerina's slight frame, which today is wrapped in an oversize cardigan. "The thing I took issue with was having to have the perfect body. There wasn't any room for fault or imperfection. Film is a lot more about life, and so it's all about the things we do that are imperfect. That really interested me more."
She launched her second career with the digital intrepidness of the millennial generation: "I Googled acting agencies." After Wasikowska won small roles in Australian independent films, her agent began to send audition tapes to Hollywood, and the teenager landed a breakthrough with In Treatment, playing a suicidal gymnast. A similar long-distance screen test in February 2008 put her in the running for Alice.
"I didn't hear anything for a number of months," she recalls, adding that she never expected to be cast. "Then I went and did three more auditions with Tim, and I got the role. It was amazing."
Wasikowska keeps herself occupied during lulls on set by snapping backstage photos with her mother's old Rolleiflex camera, and she seems charmingly blasé about her proximity to Depp, recently named People's Sexiest Man Alive for a second time. ("I'm surprised he beat Robert Pattinson," she says teasingly. "It's tough competition. Well done!") Her next role will be another famous fictional heroine—Jane Eyre, in a remake by director Cary Fukunaga, who won a directing award at Sundance for 2009's Sin Nombre.
Wasikowska says that between shoots she gets her reality check in Canberra, where her family and friends are interested, but not too interested, in her burgeoning career. "I love going home," she says. "There I'm like, 'Oh yeah, the world doesn't revolve around moviemaking. People talk about other things.'"
Hair by Rob Talty for Rene Furterer at OpusBeauty.com; makeup by Monika Blunder for The Wall Group.