Jane Eyre Premieres at the Tribeca Grand Hotel
Mia Wasikowska and Michael FassbenderMia Wasikowska was the first to hit the red carpet last night at the Tribeca Grand Hotel for the Jane Eyre premiere (hitting theaters Friday, March 11th). Her striking black structured-yet-soft...
---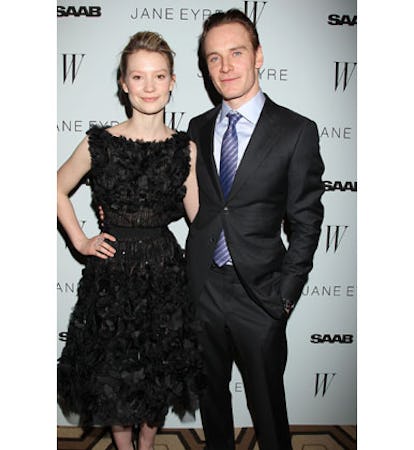 Mia Wasikowska was the first to hit the red carpet last night at the Tribeca Grand Hotel for the Jane Eyre premiere (hitting theaters Friday, March 11th). Her striking black structured-yet-soft Elie Saab dress and (seemingly makeup-free) face was perfectly emblematic of her mix of old-soul poise and fresh-faced youth that has so charmed Hollywood and audiences.
Though even with her aura of innocence, after some initial nervousness, the 21-year-old said she had no difficulty playing the love interest of a man 12 years her senior, "The first thing I said when I found out that Michael [Fassbender] was [playing Edward Rochester] was, 'He's a man!' 'I've only acted with boys before, but he's a man!'" Though when he arrived on the red carpet a few minutes later she remarked, "Now, he feels just like a kid to me."
Indeed, Fassbender lit up the red carpet, constantly joking with director Cary Fukunaga. When asked why he was attracted to the role, he responded, "Well," (throwing Fukunaga a sideways glance) "He kind of attracted me a little bit." Then, as if on queue, Fukunaga pulled out a letter bearing a Valentines-y design from the inside pocket of his impeccably sharp suit. "It's a love letter," he said, handing it to Fassbender. Does he do this for all of his stars? "No, just the ones I like," he replied. Unfortunately, both refused to divulge its contents.
Jokes aside, Fassbender was all business at the premiere, seeing the complete film for the first time and then rushing off to continue work on his upcoming project, Shame, directed by Steve McQueen (the pair also teamed up for 2008's Hunger).
The screening room was packed to the gills (with everyone from producers to Zoe Kravitz—Fassbender's rumored girlfriend) when James Schamus, CEO of Focus Features introduced the movie and addressed the myriad screen adaptations of Jane Eyre, joking, "If the Academy has proved anything, it's that people never get tired of English accents."
The film opens to a long, visually stunning stretch as Jane wanders the countryside alone—a real testament to her ability to hold the screen without any dialogue. The audience also gets a first look at Wasikowska's corseted costumes, "I kept complaining about the corset with Alice [in Wonderland] and I didn't realize how unnecessary that was until I got into the Jane corset, which was absolutely painful," she says. Though with a waist as impossibly tiny as hers, it's hard to imagine what was left to nip in.
The story moves back and forth in time, (special commendation should also be given to the Amelia Clarkson, who is every bit as captivating as the young Jane) and it is clear from the beginning that this is going to be a dark film—both in coloration and in tone. Fassbender is appropriately tormented-yet-vulnerable and manages scene-stealing intensity even in the more tender moments with Jane.
There were a few points of levity (many delivered by the wonderful, but under-utilized Dame Judi Dench), though there were more than a few tense instances where a sudden horror-movie-style surprise made the audience jump (some mid-sip of Moet).
To lighten the mood on set, Wasikowska, a former ballet dancer, was overheard mentioning that she would tap dance with Fassbender between takes; though he insists that he doesn't have anywhere near her amount of rhythm.
After the screening, the party moved upstairs to the Tribeca Grand bar—a quick location switch from the SoHo Grand where the roof apparently sprang a leak during the evening's rain—and Wasikowska (who was overheard mentioning that she forgoes the Hollywood party scene) refreshingly (and somewhat surprisingly) opted for a bottle of Stella rather than a dainty glass of champagne.
Images courtesy StarPix; Stills © 2011 Focus Features