Michael Kors Will Go Fur-Free in 2018
The brand will have zero fur by next December.
---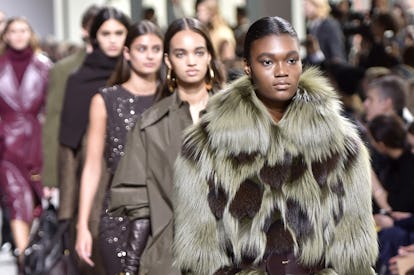 Catwalking/Getty Images
Michael Kors is joining a recent trend, and in the process giving animal lovers quite the Christmas gift. On Friday, the American luxury brand announced that the entire company plans to be fur-free by the end of December 2018, according to a press release. The commitment to replacing animal fur with other alternatives will apply across the entire 36-year-old company, which includes both the Michael Kors brand and Jimmy Choo, which was acquired in a $1.2 billion deal in July 2017. "Due to technological advances in fabrications, we now have the ability to create a luxe aesthetic using non-animal fur," Kors said in the statement. "We will showcase these new techniques in our upcoming runway show in February."
The announcement comes just a few months after Kors's June talk with journalist Alina Cho at New York City's Metropolitan Museum of Art was interrupted by animal rights activists. According to Women's Wear Daily, around 20 protestors stormed the stage, formed a circle around Kors and Cho, made "animal-like sounds," and shouted at the designer for continuing to use fur in his designs. Prior to that, in February, a handful of PETA supporters protested outside the Michael Kors store in NYC's SoHo with anti-fur signs and a costume meant to look like Kors's head on the Grim Reaper's body. "Although PETA has contacted the Michael Kors company numerous times in recent years to let him know that minks, foxes, crocodiles, and other animals are electrocuted, bludgeoned, and skinned alive, he continues to use fur and exotic skins in his designs," a PETA spokesperson told WWD at the time.
Though, the decision may have more to with the fashion industry's changing view of fur in general. Kors's fur-free edict follows that of Gucci. In October, the luxury brand's president and CEO Marco Bizzarri announced that their designs would no longer incorporate animal fur, beginning with the Spring 2018 collection, which was presented at Milan Fashion Week in late September. Michael Kors and Gucci join brands like the Net-a-Porter Group, Calvin Klein, Donna Karan, Stella McCartney, Ralph Lauren, Tommy Hilfiger, and Armani, all of which have pledged to go fur-free over the course of the past few decades.
Related: Meet the Quirky British Fashion Designer Who Is Uniquely Responsible for the Faux Fur Trend
Fur Is Out, And Faux Is In
"The London Look." Model Charlie Barker wears a Shrimps coat and scarf. Photo by Harry Carr, styled by Hanna Kelifa; WMag.com February 2015.
Topshop, $160, topshop.com.