Meet the Quirky British Fashion Designer Who Is Uniquely Responsible for the Faux Fur Trend
Hannah Weiland, the designer who founded the Alexa Chung and Poppy Delevingne-approved label Shrimps, knows how to keep warm.
---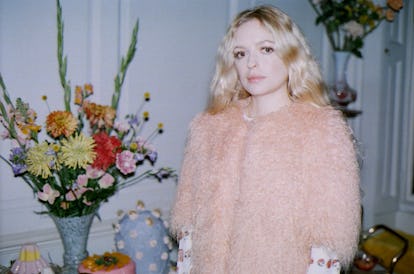 In 2013, Hannah Weiland launched Shrimps, a cult-favorite collection of colorful faux fur. Now, her brand is a fixture at London Fashion Week, and Weiland has gained a cult following as a street style star, thanks to her long golden locks and slightly quirky wardrobe. While the young designer is working to expand her brand to include more than outerwear, she's taking some time off first to enjoy the holidays. "I am spending Christmas in the English countryside with my family, my favorite place to be!" she said.
Of course, she added, "I'm going for a week so will be taking a lot of Shrimps with me." In particular, Weiland is packing "all my knits to wear in the house, and lots of coats to wear on wintery walks" and "Will definitely wear the sparkly Little Star coat on Christmas day, and the Bingo coat for New Year's Eve!"
What made you decide to become a fashion designer? I wanted to combine my love of fashion and art, and designing allowed me to do this. My initial idea was to create a faux fur, colorful, Breton-striped coat.
What was your particular interest in faux fur versus real fur? I had never worn real fur, and stumbled across an amazing quality of faux fur. The ideas all came flooding in after that.
What was it like getting a business off the ground? It all happened very organically for me, my first coat got picked up by amazing stockists such as Avenue 32, Opening Ceremony and Net-a-Porter. These orders really helped me launch Shrimps as a proper business and develop my team and collections.
What were the main pieces you began with? I started with one faux fur coat and one faux fur clutch bag.
What styles are the most popular? We are now branching more and more into ready-to-wear but our outerwear and faux fur will always be at the heart of the brand.
What trends are you seeing among women right now that you're excited about? I'm seeing more women be more adventurous with what they wear and I love it!
Watch W's most popular videos here: