Michael Kors and Artist Eli Sudbrack Team Up To Help End World Hunger
The fashion designer and artist are channeling positive energy through philanthropy.
---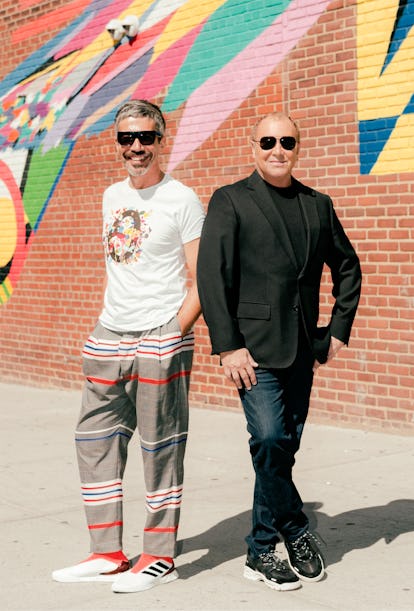 Portrait by Ryan Lowry Grooming for Michael Kors: Candice Forness for La Mer; Photography Assistant: Austin Sandhaus; Faena: Courtesy of Faena Art Center; Illustration: Courtesy of Michael Kors.
Michael Kors can crack witty one-liners on just about any topic—except his charity work. But even then, the designer likes to keep things upbeat. "When people think about the different issues affecting the world, there's so much doom and gloom," says Kors, who five years ago launched his brand's global initiative, Watch Hunger Stop. "I want to present this campaign in an optimistic way, to motivate people. Because hunger is a solvable issue!"
Enter Eli Sudbrack, the Brazilian artist behind the creative collective Assume Vivid Astro Focus, whose sensorial overload of color, ­pattern, music, and technology is hard to miss. Take, for example, the psychedelic roller rink Sudbrack constructed in New York's Central Park in 2004, or the multicolored maze he erected among the oldest temples in Rome in 2008—a fun house of an installation within fourth-century-BC structures that had previously been accessible only to an army of cats. In 2011, Sudbrack helped Lady Gaga realize her dream holiday workshop at Barneys New York, complete with an enormous mouth at the entrance. And in 2015, he handed over his entire eye-popping oeuvre to Comme des Garçons' Rei Kawakubo, who remixed his work for a year's worth of brand imagery.
For Kors, it was the mural that Sudbrack and his occasional creative partner Christophe Hamaide-Pierson had painted on Miami's Wynwood Walls in 2010 that caught his attention. "I thought his colorful, graphic work was perfect for this project," says the designer, who enlisted Sudbrack to create original art for this year's Watch ­Hunger Stop campaign, which includes a special-edition T-shirt, launching in October. Each tee sold will fund 100 meals for children around the world, with the help of the United Nations World Food Programme.
"I've always wanted to reach out to the world and to get real benefits from it," Sudbrack, 50, says of his turn to philanthropy, as he sips tea in a café in Brooklyn not far from his apartment. He moved to New York from São Paulo in 1998, and soon after founded Assume Vivid Astro Focus—an assemblage of words taken from album titles. From the start, his art was fueled by his desire to engage, inspire, and enthrall as many people as possible, both in its creation and presentation. His collaborators are ever-changing—"I've always been a curator," he notes—and when possible, he's inclined to step outside the gallery. "It's fundamental that the visitor be part of my work," he says, noting his frustration with the art world's tendency toward exclusivity. "Bringing people together when everyone is shouting at each other all the time—to me, that's super important," he says. "And I'm a firm believer that color is a universal language. It brings positive energy to all."
His T-shirt for Watch Hunger Stop features all of the countries benefitting from the charity but looks like an abstracted explosion of color. "Michael thought it was butterflies," Sudbrack says with a wry smile. He's also at work on a splashy facade for Jackson North Medical ­Center, in Miami, and another roller rink, at the Fort Mason Center for Arts & Culture, in San Francisco. Rather uncharacteristically, Sudbrack has also been working alone in the studio he keeps in São Paulo on a series of paintings that will be presented in two separate solo shows in Brazil this year. Comprising detailed sections of past work, blown up large, they appear to almost radiate good vibes. "I use neon paint for the first layer," he explains. "You see the light coming through."