The Originals: Michel Gaubert, Fashion's Go-To Music Director
The man behind the music for fashion's biggest runway shows shares his thoughts on style and tells the story of how Karl Lagerfeld gave him his big break.
---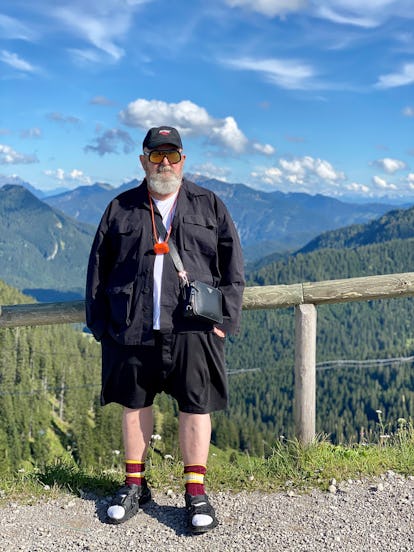 Photo by Ryan Aguilar.
You have been in charge of the music at Chanel since the early 1990s, and have done the runway soundtracks for Moschino, Loewe, Dior, and Proenza Schouler, among others. Why do you think you've been the go-to music director in fashion for so long? I love fashion as much as I love music, if not more. I like what it means. I like the way it's presented. I don't know if I like the way it's consumed, but I like the fact that it's about an instant. Karl Lagerfeld once told me that what he likes the most about fashion is that when you look back at it, you know exactly when that was, because it looks of that time.
Was it Lagerfeld who brought you into the fashion world? More or less. I think the person who really brought me into the fashion world was my mother. When I was a kid, my mom loved fashion. She really inspired me. She took me to Laura, the shop owned by Sonia Rykiel's husband that sold her early designs, when I was a kid. Then I worked at Le Palace nightclub in Paris for a while. There were a lot of fashion parties there. Thierry Mugler did the uniforms for the waiters, which were amazing. After a while, I was DJing for fashion shows on the side, and Karl liked me, and one day he asked me to do the music for him, and yes, I would say that was my big break.
Did it feel like fate?Yes, probably. I wanted it really bad. I had a good friend called Dauphine, she was the muse of Thierry Mugler, and she invited me to a few Mugler shows, and I was mesmerized each time I went. It was those crazy sets, and I saw one in a big auditorium where Pat Cleveland came down from the ceiling dressed as the Virgin Mary. I thought, Wow! I want to do music for these things!
Do you have a style icon? David Bowie. He had a very, very wide range of styles, and they all connected to each other. Whether he was wearing a suit or a Kansai Yamamoto look or some crazy thing, everything he wore made sense next to each other.
What's the most prized possession in your closet? One Christmas I received a big box from Stefano Pilati when he was at Yves Saint Laurent, and inside was a very, very big red coat. It's beautiful, and inside there's actually a label that says YSL LOVES MICHEL. I thank Stefano Pilati every time I wear it. The other one is a Raf Simons jacket. It's like a bomber jacket with a camo print, and it's got a few images on it, like the Manic Street Preachers. I bought it in June 2001. Then, when 9/11 happened, I thought, Oh shit, I can't wear that jacket. When I wore it again it was a couple of years later, and it looked really amazing. One day I almost died when I saw Kanye West wearing the same one.
Who was the first person who made you realize you could break the rules? Also my mother, because she let me be pretty free since I was 10 or 12.
Do you remember what you were wearing around that time? She used to send me to London two or three times a year to learn English, and I would go crazy. I went to Mr. Freedom. I was wearing the heel. I was wearing the printed velvet. My hair was long. I was wearing all that kind of stuff. Until I went to America, when I was 16, and that changed dramatically.
What did you think of America when you got here? I thought it was very backward compared to Europe. I was so used to my freedom. I was wearing what I wanted and listening to what I wanted and acting the way I wanted. I never felt constrained. Then when I got to America, I was an exchange student. The family, they freaked out first because my name was Michel, so they thought I was a girl. Then my hair was too long. My clothes were too expensive. They put me into some kind of American norm, and I realized they were, like, more into boxes. It took me awhile to get used to it.
What does originality mean to you? Originality means to do what you feel like. You just express yourself the way you want, not the way other people feel you should.