500 Years After Michelangelo, the Sistine Chapel's Frescoes Have Made Their Way Into, of All Places, the World Trade Center
"Up Close: Michelangelo's Sistine Chapel" offers a closer look at the legendary frescoes Michelangelo once painted for Vatican City—inside the world's most expensive train station.
---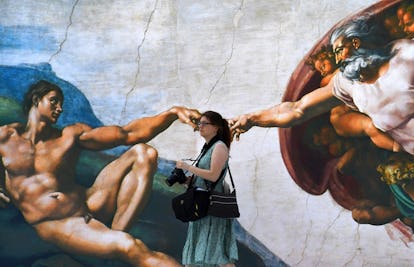 Timothy A. Clary/Getty Images
Back in the 1400s, Pope Sixtus IV organized the construction of the Sistine Chapel, a brick building perfect for both papal congregations to elect new popes and saying prayers—especially after Sixtus enlisted famed Renaissance painters like Sandro Botticelli to do the decorating. It was in the 1500s, though, that Michelangelo got his hands on the place and officially transformed it into the stuff of legends. His resulting paintings spanning the ceiling have now had millions of visitors craning their necks for five full centuries—and necessitated their making the pilgrimage to Italy to take them all in, given that they're frescos, or paintings painted directly into the plaster coating the chapel's ceiling.
Still, even though they're therefore essentially forever tucked away inside Vatican City, Michelangelo's works have undoubtedly managed to make their way around the world, worming their way into pop culture most recently via The Young Pope, Paolo Sorrentino's HBO series starring Jude Law. It's inside the chapel where, after he dons regalia after regalia to the tune of "Sexy and I Know It," Law truly outs himself in front of the dozens of assembled cardinals as bearing more than a few close-minded similarities to Donald Trump.
Now, though, viewers can finally encounter Michelangelo's imaginings without the bothersome background noise of Trumpian calls for an end to tolerance. As of this month, The Last Judgment—or at least a towering recreation of it—has been installed, upright, inside a modern marvel of our own times: The Oculus at the World Trade Center Transportation Hub in lower Manhattan, a mourning site-turned-world's most expensive train station that took 10 years to construct and, as usual for the starchitect Santiago Calatrava, ended up going $2 billion over budget. Until July 23, it's playing host to "Up Close: Michelangelo's Sistine Chapel," meaning that the chapel's centerpiece is also surrounded by 34 close-ups of each fresco, including The Creation of Adam, at a much friendlier eye level. Of course, that also means visitors are using the opportunity to ogle at Adam—and post the evidence on Instagram. See their best grams, here.
See W's most popular videos: