A Video of Michelle and Barack Obama at Beyoncé and Jay-Z's Concert Proves They Are Living Their Best Lives
With their best dance moves.
---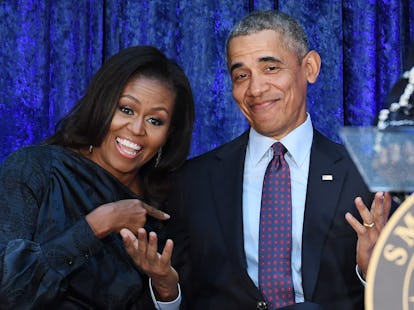 Matt McClain/The Washington Post via Getty Images
On Saturday, Michelle and Barack Obama continued to live their best post-White House life when they attended Beyoncé and Jay-Z's concert in Maryland, near their home of Washington, D.C.
During the concert, fans captured footage of the former First Couple as they sang along with the music and danced with friends in their box seats. Twitter reveled in Michelle's perfectly executed moves, while Barack showed off his world-famous "dad" moves. The videos are thoroughly delightful.
And really, this is just the kind of thing you'd expect from the post-political Obamas. After all, this was Michelle's second On the Run II Tour concert in as many weeks, proving she might just be queen of the Beyhive fandom. In early July, she was spotted alongside Beyoncé's mother, Tina Knowles, and her youngest daughter Sasha at the couple's tour stop in Paris. This time, however, it made it all the more special that Barack was at the D.C.-area concert too.
Look at these two:
I mean…
Just one more just for good measure.
That the Obamas are fans of the Carters is not a surprise: The two couples have been friends for years, dating back to at least 2009, when Bey performed at then-President Obama's first inauguration. She also sang the national anthem at his second inauguration event in 2013.
In 2011, Michelle and Beyoncé teamed up to help promote the then-First Lady's "Let's Move" campaign to help end childhood obesity in America. And in 2014, Michelle was spotted at her first Beyoncé concert in Chicago, according to CNN, to which she also brought daughters Sasha and Malia along.
Safe to say these two are fans of Bey and Jay—and we're so happy that video documentation exists.
Related: A Brief History of Celebrities Letting Loose (and Losing It) at Beyoncé Concerts