Michelle Obama Had Two Words for Donald Trump's 2017 Inauguration: "Bye, Felicia"
She looked back on the whirlwind day with Jimmy Fallon this week.
---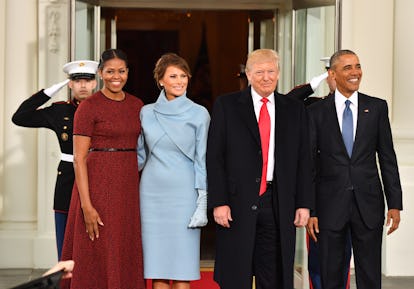 Kevin Dietsch/Getty Images
You may recall the awkward moment nearly two years ago, on the day of Donald Trump's January 2017 inauguration, when Barack and Michelle Obama greeted Donald and Melania Trump outside the White House, and the outgoing FLOTUS was forced to juggle a cumbersome Tiffany & Co. box—a gift from the Trumps—while posing for formal photographs. Obama has since shared her thoughts on that particular moment of Inauguration Day, but it wasn't until this week that she unpacked her emotions about the rest of that fateful day.
On Tuesday's episode of The Tonight Show, host Jimmy Fallon showed Obama a photo of her and her husband standing at the door of Air Force One and waving goodbye after the inauguration ceremony had come to a close, and asked her to describe how she was feeling in that moment. "It's like, 'Bye, Felicia!'" Obama quipped, prompting cheers from the audience and a lengthy drum sting from the Roots.
"Is that what was going through your mind?" Fallon asked, after regaining his composure.
"A lot was going on that day," she said. "That was a day. And right before that, you know, my daughters' friends decided they needed a sleepover for the last day. I was like, 'Are you guys kidding me? We're leaving! You gotta take all your stuff, pick it up, the blankets, the bears'—they were all crying—it was like, 'Get out, we've gotta go!'" she explained. "So, there was that, and then the Tiffany's box. It was just all, you know, a lot."
Earlier this year, in an interview with Ellen DeGeneres, Obama described why, exactly, that moment with the signature blue box (which contained a "lovely" picture frame, for the record) was so awkward. "Well, there's all this protocol. I mean, this is like a state visit, so they tell you that you're going to do this, they're going to stand here. Never before do you get this gift, so I'm sort of like, 'OK…. What am I supposed to do with this gift?'" she said. "Everyone cleared out, and no one would come and take the box. And I'm thinking, 'Do we take the picture with it?'" Luckily, Barack "saved the day" by taking the box off her hands, so she wasn't forced to stash it in some bushes beside the White House and say "bye, Felicia" to that, too.
Related: Michelle Obama's Hair Evolution: Elegant, Presidential and Always Inimitably Fabulous
Michelle Obama's Hair Evolution: Elegant, Presidential and Always Inimitably Fabulous
Michelle Obama arriving at the inauguration of Barack Obama as the 44th President of the United States of America

Getty Images
Michelle Obama making the opening remarks as she and U.S. President Barack Obama host an evening of celebration in honor of musician Stevie Wonder's receipt of the Library of Congress Gershwin Prize for Popular Song

Getty Images
Michelle Obama speaking as she and President Barack Obama host An Evening of Poetry, Music and the Spoken Word at the White House

Getty Images
Michelle Obama and President Barack Obama attending a celebration of country music at the White House

Getty Images
U.S. President Barack Obama has a word with first lady Michelle Obama after they arrive to make a presentation in support of Chicago as the host city for the 2016 Summer Olympic Games in Copenhagen, Denmark

Getty Images
Michelle Obama speaks during the ServiceNation launch of 'MISSION SERVE: Forging A Continuum Of Service' at George Washington University

Getty Images
Michelle Obama speaking during the media preview of the White House holiday decoration

Getty Images
Michelle Obama and husband U.S President Barack Obama waiting for Mexican President Felipe Calderon and his wife Margarita Zavala to arrive for a State Dinner at the White House

Getty Images
US President Barack Obama and first lady Michelle Obama arriving at the 2010 welcome ceremony of the G20 Summit in Toronto

Getty Images
Michelle Obama attending an event about the Affordable Care Act at George Washington University Hospital

Getty Images
Michelle Obama attending an event about the Affordable Care Act at George Washington University Hospital

Getty Images
Michelle Obama speaking during dedication ceremonies of the new Fisher Houses on the campus of Naval Support Activity in Maryland

Getty Images
Michelle Obama appears on NBC News' "Today" show

Getty Images
Michelle Obama listening during the White House Correspondents' Association annual dinner

Getty Images
Michelle Obama doing a dance after President Obama joked with her during a Cinco de Mayo reception in the White House

Getty Images
US President Barack Obama and First Lady Michelle Obama waiting to greet Britain's Queen Elizabeth II and Prince Philip, the Duke of Edinburgh, for a reciprocal dinner at the Winfield House in London

Getty Images
Michelle Obama greeting volunteer workers during the Heroes at Home program's 1,000th home renovation project in Washington, DC

Getty Images
President Barack Obama and first lady Michelle Obama speaking to one another during the NCAA men's college basketball Carrier Classic between the Michigan State Spartans and the North Carolina Tar Heels

Getty Images
Michelle Obama attending the 2011 Building a Healthier Future summit

Getty Images
Michelle Obama speaking during the BET Honors 2012 at the Warner Theatre

Getty Images
Michelle Obama awaiting the arrival of British Prime Minister David Cameron and his wife, Samantha Cameron, prior to a State Dinner as part of an official visit on the North Portico of the White House

Getty Images
Michelle Obama and daughter Sasha walking from St John's Episcopal Church after attending Easter Service

Getty Images
Michelle Obama attending the 2012 White House Correspondents Association Dinner in Washington, DC

Getty Images
Michelle Obama at the 2012 Democratic National Convention in Charlotte, North Carolina

Getty Images
Michelle Obama speaking during an awards ceremony for the President's Committee on the Arts and the Humanities in the White House

Getty Images
Michelle Obama attending the 2013 Inaugural Ball

Getty Images
Michelle Obama speaking during the "Building a Healthier Future Summit" at the Lisner Auditorium of George Washington University in Washington, DC

Getty Images
Michelle Obama laughing to a joke told by comedian Conan O'Brien during the White House Correspondents' Association Dinner

Getty Images
Michelle Obama speaking during a veterans employment event in the East Room April 30, 2013 at the White House

Getty Images
Michelle Obama speaking at an awards ceremony in the White House

Getty Images