Michelle Obama's Custom Gucci Is the Only Holiday Fashion Inspiration You Need
Diplomacy by way of Alessandro Michele.
---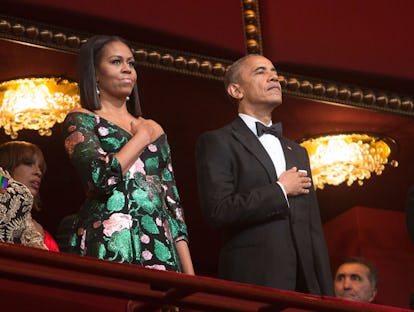 AFP/Getty Images
Among his finals acts as president, Barack Obama has been celebrating a whole slew of influential artists across disciplines, from music to film to literature and back again. The most recent crop, who were minted at Sunday night's Kennedy Center Honors, included James Taylor, Mavis Staples, Al Pacino, and several members of the Eagles. And with each recent public outing, First Lady Michelle Obama has deepened her ties to fashion — for a state dinner with Prime Minister Matteo Renzi and his wife, she recruited Donatella Versace to design a custom Atelier Versace gown, and for the most recent Kennedy Center gathering, she did the same with Gucci's Alessandro Michele. The result? An iridescent silk crepe gown that we're projecting will be the only festive winter fashion inspiration you need as the holiday season approaches.
Who: First Lady Michelle Obama.
When: Sunday, December 4.
Where: The Kennedy Center Honors celebrating James Taylor, Mavis Staples, Al Pacino, and more, hosted by Stephen Colbert and with a surprise guest appearance by Bill Clinton in Washington, D.C.
What: A custom silk crepe gown by Alessandro Michele for Gucci with an iridescent green and pink floral pattern and a crystal brooch accentuating the waist, half sleeves, and an off-the-shoulders silhouette.
Why: The First Lady couldn't have anticipated the outcome of the recent Italian referendum put forth by Matteo Renzi, intending to consolidate the 945-member Parliament. Yet her selection of a quintessentially Italian designer for an all-American event reads as a kind of solidarity with the first family across the Atlantic, for whom the Obamas recently hosted a state dinner (Michelle clad in the aforementioned Versace stunner). The Gucci gown has an eye towards the international climate — the First Lady has consistently used her fashion choices as a means of extending a sartorial olive branch — and its elegant, retro silhouette, crystal-encrusted waistline, and shimmery floral pattern just a couple shades away from a very Christmas green and red are full of holiday spirit. Michelle Obama is here to remind you that there's no way our next First Lady will have this kind of game.
See W's most popular videos: