Michelle Obama Delivers the Speech of the Season While Campaigning in New Hampshire
She's very much with her. Then, there's Fabrice Calmels, the Joffrey dancer signed to IMG; Colette makes a move for the U.S.; and Stella Maxwell lands her first beauty contract.
---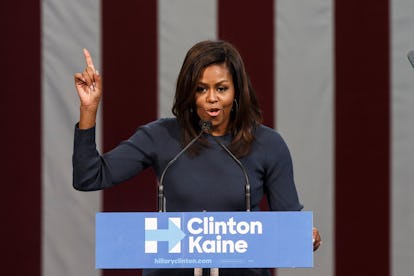 Boston Globe via Getty Images
Babenzian, Brendan Supreme alum and the designer behind streetwear brand Noah, which just joined forces with Dover Street Market.
Calmels, Fabrice World's tallest ballet dancer, Joffrey principal, Karlie Kloss collaborator, IMG Models's newest signee.
Colette The French luxury retailer is making a (short-lived) stateside debut with a pop-up takeover of Coach's Soho space at the end of October. The two shops have also collaborated on a kids' line.
Maxwell, Stella For her first beauty contract, Maxwell has landed a gig with Max Factor, the cosmetics brand that boasts Pat McGrath as its global creative design director.
Obama, Michelle Without so much as mentioning Hillary Clinton's opponent in the presidential race, the First Lady took to the stage in New Hampshire with a powerhouse speech about the recent allegations that have surfaced against Trump. "This is not politics as usual," she said. "Strong men don't need to put down women to make themselves feel powerful."
Smith, Jaden Literally a vampire. Or at least, he was.
Voices, Outdoor The new go-to athleisure and workout label for It girls everywhere just opened its New York flagship, so founder Tyler Haney is here to share all her fitness secrets.
Yellow Introducing your new favorite color. Minions not included.