Michelle Obama's Portrait Is So Popular the Smithsonian Had to Move It
Here's further proof that everyone loves Michelle.
---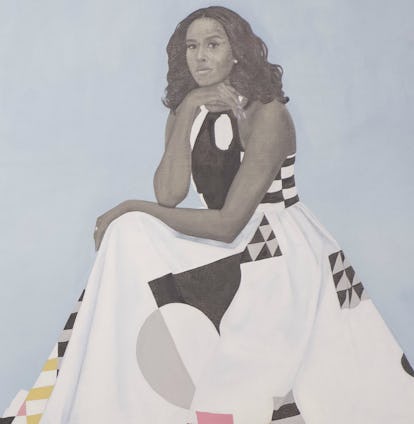 Ever since Barack and Michelle Obama's portraits arrived at the Smithsonian's National Portrait Gallery in February, the museum has seen a huge increase in visitors. According to CNN, 176,700 people visited the gallery in February 2018, which marked the most visitors to the museum in the last three years.
On Tuesday the Smithsonian announced in a tweet that the former First Lady's official portrait had to be moved to a new, larger location because so many people were coming to view it every single day.
"We're always changing things up here. Due to the high volume of visitors, we've relocated Michelle Obama's portrait to the third floor in our 20th-Century Americans galleries for a more spacious viewing experience," the museum wrote.
Though really, who could blame people for wanting to go check out the powerful portrait of Michelle Obama painted by artist Amy Sherald. Even Barack got choked up just looking at it, telling Sherald at the painting's unveiling, "Amy, I want to thank you for so spectacularly capturing the grace and beauty and intelligence and charm and hotness of the woman I love."
As for Michelle herself, she too was "a little overwhelmed" by the gorgeous piece at first. "I'm also thinking about all the young people, particularly girls and girls of color, who in years ahead will come to this place, and they will look up and they will see an image of someone who looks like them hanging on the wall of this great American institution," she said at the unveiling as she fought back tears. "I know the kind of impact that will have on their lives because I was one of those girls. And when I think about those future generations and generations past, I think, again, wow. Wow."
Related: Inside the Obama Portraits Unveiling: Witnessing Visions of Black Power Shake Up a Gallery of White History