Michelle Obama Helps a Couple Exchange Wedding Vows in Chicago
One lucky couple had the former first lady help them with their "I do's."
---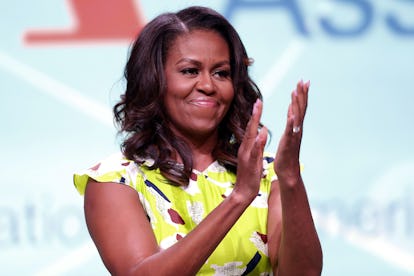 Jonathan Bachman
Michelle Obama took on a different kind of official duty this weekend in Chicago, helping one lucky couple say their "I do's."
The ceremony, which took place on Saturday, September 22, between Stephanie Rivkin and Joel Sircus, was officiated by Obama. According to TMZ, she helped the couple exchange their vows at Theater on the Lake.
In a New York Times wedding announcement, it was revealed that the bride, a sales account manager at Google, is the daughter of Chicago's deputy mayor, Robert S. Rivkin, and Cindy S. Moelis, the president of Penny Pritzker's charity, the Pritzker Traubert Foundation. (Pritzker served as commerce secretary in the Obama administration.) The piece also said that the groom works as an investment associate at Chicago's DNS Capital, the family company for Michael Pucker and Gigi Pritzker.
The couple first met during their time at Walter Payton College Preparatory High School.
It's not surprising that Michelle officiated a wedding in the Windy City. She and her husband, Barack Obama, of course, famously have close ties to Chicago: Michelle was born there, in 1964, and Barack was a senator of Illinois from 1997 to 2008.
The Obamas raised their two children, Sasha and Malia, in Chicago until 2009, when Barack was officially sworn in as the 44th president of the United States.
The wedding comes ahead of Michelle's next chapter: a highly-anticipated book tour for her debut memoir, Becoming.
Earlier this month, Michelle posted a video to Instagram in anticipation of her book and tour, saying, "Hey, everybody, it's Michelle Obama…. It's a big day for me because I am finished with my book…. I can't wait to share it with the world. Over this time that I've been out of the White House, I've had time to think and reflect for the first time in a long time, and I spent some time really thinking about the people and the stories and the experiences that have shaped me and helped me become the person I am today, and I am proud of what I've created. I'm proud because it's candid, it's totally and utterly me. So I'm also a little frightened because it's candid and honest and open, but I can't wait to share it with the world."
The book tour aptly begins in Chicago, on November 13.