Becoming: Everything We Know About Michelle Obama's New Memoir
In Becoming, Michelle Obama will chronicle her journey from the South Side of Chicago to the White House and beyond.
---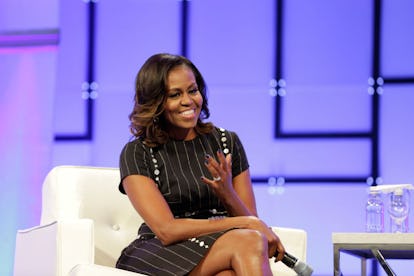 Marla Aufmuth/Getty Images
It is no surprise that Michelle Obama has mastered the art of multitasking. Even before she became the first lady of the United States, she was working hard as an executive at the University of Chicago, raising a family, and making history.
In February, Obama announced the release of her forthcoming memoir, Becoming, in which she chronicles the story of how she grew up in a brick bungalow on the South Side of Chicago with her parents Fraser and Marian Robinson, attended Princeton University as a first-generation college student, graduated from Harvard Law, met and married Barack Obama, and became the inspirational icon that many look up to today.
"The process of writing this book has been so personally meaningful and illuminating for me," Obama shared in an Instagram caption of a photo of her memoir's cover, released via social media on Thursday morning. "As I prepare to share Becoming this fall, I hope you'll also think about your own story, and trust that it will help you become whoever you aspire to be. Your story is what you have, what you will always have. It is something to own."
Ahead of the November 13 release of Becoming, Obama promised to share some rare photographs from her book with her 20 million followers on Instagram, and so far the memories she has provided do not disappoint. Photos of the former first lady with her parents, her children, and her husband have appeared on her feed, with lively and emotional captions outlining the memories behind the captured moments. We can expect to read at least one dynamic behind-the-scenes tale about the Obamas' wedding day in the memoir; according to her Instagram caption for a photo of the big day, the former president started his wedding day with a cold, but by the time the couple walked down the aisle he was cured.
If her 2012 book, American Grown, which tells thoroughly enjoyable tales of the White House vegetable garden, is any indication of the power of Obama's storytelling skills, Becoming should be an even more comprehensive study of Obama and her family. In addition to illustrating the innumerable ways in which the former first lady made history in her eight years at the White House, Obama will also share details about her relationship to her children, Malia and Sasha Obama, and her family's life since leaving the White House. Enthusiasts of Obama's most fashionable moments in the 2000s might also be hoping for at least one chapter with an anecdote that touches on her style transformation through the years.
According to the official website for Becoming, Obama will also hit the road this fall, going on tour to a number of American cities to speak about her book (hopefully with some very special guests in tow). But book tours and Instagram trips down memory lane aside, Obama will of course still be very busy in the meantime. In addition to the impending press tour for Becoming, the Obamas have potentially begun some very important home renovations (adding a pool to their Washington, D.C., home could take up a huge chunk of their time), and officially inked a deal with Netflix to produce several television series and films, in which they "hope to cultivate and curate the talented, inspiring, creative voices who are able to promote greater empathy and understanding between peoples, and help them share their stories with the entire world." There's no doubt that Becoming will do the same.
Related: Obamas Ink Deal With Netflix to Produce TV Shows and Films