Mick Jagger is Returning to Movies To Star in Art World Thriller The Burnt Orange Heresy
'The Burnt Orange Heresy' will premiere in September at the Venice Film Festival
---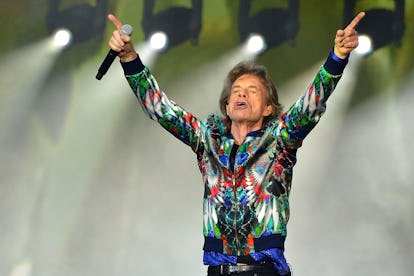 Photo by Jim Dyson/Getty Images
Mick Jagger, movie star? The 75-year-old lead singer of the Rolling Stones famously turned down an oppurtunity to appear in one of Johnny Depp's Pirates of the Caribbean films and hasn't had a major movie role since 2001's The Man From Elysian Fields, has a part in the upcoming The Burnt Orange Heresy. The art-world thriller will screen out of competition at the close of the Venice International Film Festival, which runs from the end of August through the September 7.
Jagger plays Cassidy (no word on if that's the character's first, last or only name), a "powerful art collector" with a "lavish and opulent Lake Como estate," per a synopsis on Cineuropa. Cassidy hires Americans James Figueras (Claes Bang) and Berenice Hollis (Elizabeth Debicki) to steal a painting from Jerome Debney (Donald Sutherland), "a kind of reclusive JD Salinger of the art world," whom Cassidy has been bankrolling. It's an "erotic neo-noir thriller," per ArtNet, so expect lots of smoking in bed after sex, spying on people while they shower, and perhaps a double entendre about museum-quality paintings and the female body: the longer you look, the more you want to touch…but don't! Directed by Giuseppe Capotondi, the film is based on the 1971 novel of the same name by Charles Willeford.
Jagger reportedly completed work on the project before this heart surgery in April. The minimally invasive procedure doesn't seem to have slowed the rocker down, as he proved with a high-energy dance studio video posted in May. No word yet on if we'll get to see any of his famous Moves in the movie, but we can hope.
When the film was first announced, Christopher Walken was slated to play the role of Jerome Debney. According to an article in The Hollywood Reporter at the time, the action was also set in 1970 Italy, though it seems that the filmmakers have since gone, as they say in the industry, in a different direction, changing the time period to the modern day. We'll take whatever version of Jagger we can get.